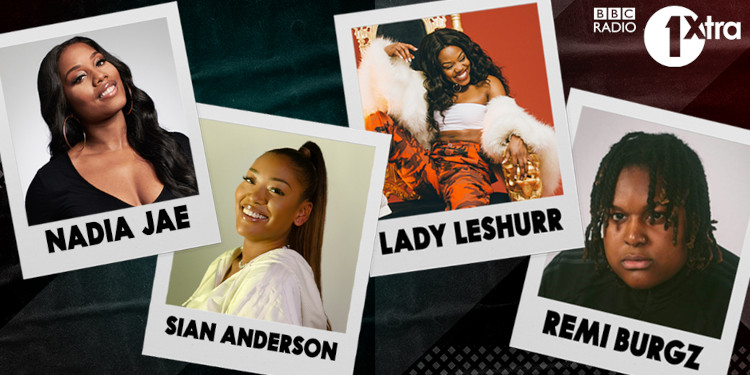 Nadia Jae is to be the new host of The 1Xtra Breakfast Show (Monday – Friday, 6-10am) from January.
Nadia first joined 1Xtra in 2018 as part of 1Xtra's Residency and since then has also presented 1Xtra's Weekend Breakfast show and temporarily hosted weekday mornings on the station since August. During her short time she has interviewed guests such as Jamie Foxx, Queen Naija and Bryson Tiller.
Speaking about her new show, Nadia says: "After 4 months of covering I have fallen in love with The 1Xtra Breakfast Show, and I'm proud to officially call it mine!
"The show is the spearhead of the station and I can't thank management, production, my fellow presenters and the listeners enough for making me feel at home.
"It's an honour to be the second single female host of the show. Here's to more wheel ups, funny clips, mixes, banter and banging music to get us through the morning!"
In other changes to the schedule, Remi Burgz is joining to present Weekend Breakfast, Lady Leshurr will present Saturday Afternoons and Sian Anderson will be taking over the Monday (9-11pm) show.
Most recently, Remi Burgz co-hosted 1Xtra's The Rap Game UK season 2 podcast and Lady Leshurr is well known for her freestyles and explosive live performances with witty lyrics, including her Queen's Speech series in 2015 which racked up 200 million views on YouTube and went viral internationally. She has also most recently starred in Celebrity MasterChef.
Sian Anderson is moving from her current Friday and Saturday shows (4-7pm). She has also played at some of the biggest festivals in the world including Glastonbury and has presented several BBC documentaries including Beyond The Music: Grime Photography.
Remi Burgz says: "This really is a dream come true, this is for everyone who believed in me when I quit my job in 2017 and decided to follow my heart. I'm so grateful to Faron, Janine & the rest of the team for believing in me. I can't wait to create memories and moments with the BBC Radio 1Xtra listeners! Ding – A – Ling – A – Ling, set your alarms."
Lady Leshurr says: "So exciting to be a part of something that has been connected to my journey from almost the beginning! 1Xtra has always supported and showed love throughout my career, and we've now finally met in full circle. Can't wait to join 1Xtra and annoy people over the airwaves with my high pitched voice."
Sian Anderson says: "I started my journey on BBC Radio 1Xtra as a specialist DJ and I'm really excited to get back into that zone in addition to holding down the 1Xtra Drivetime shows on Fridays and Saturdays that I moved too in recent years. I'm looking forward to bringing back all things grime, rap, dance and melodic bass to the 1Xtra listeners on Monday nights."
The schedule changes also include Reece Parkinson who was named as the new Drivetime Host (Monday-Thursday, 4-7pm) in September and Richie Brave as the new host of 1Xtra Talks (Sundays, 9-10pm).
Nadia Jae and Sian Anderson will take over their new slots at the beginning of January and Remi Burgz and Lady Leshurr's first shows will be on 30 January.