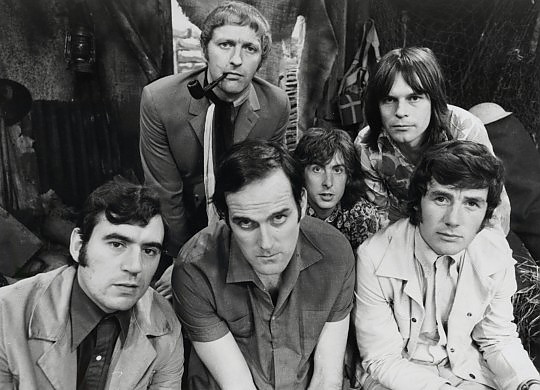 Wikipedia
It's Monty Python's 50th birthday on 5 October this year and BBC Radio 4 will celebrate the occasion by airing five new specials with Michael Palin as executive producer.
The shows will be broadcast just ahead of the anniversary in September and will include material from the Monty Python sound archives which haven't been heard before.
There will also be commemorative programmes on BBC Two, a season at the BFI in London and a re-release of books, albums and DVDs.
In addition to being executive producer for the Radio 4 series, Michael Palin will also present it, but it hasn't been confirmed if other Python members will take part.
A statement issued about the programmes said: "Join Michael to find out what John's mother thought about her care home, the extra unpleasant things that were planned for Eric's Brave Sir Robin, what exactly Terry Jones is so worried about, and why the infamous Fat Ignorant Bastards have never been more relevant to the world today."
"Python has survived because we live in an increasingly Pythonesque world. Extreme silliness seems more relevant now than it ever was," was added in a joint statement from the surviving members of the Python troupe.
Monty Python is turning 50! We're thrilled to announce some plans for our 50th anniversary, including a @BFI season, @BBC takeover, a @networktweets release of the fully-restored "Flying Circus", anniversary releases of Python books & albums & even a @GWR attempt. #Python50 pic.twitter.com/6N6vTD26od

— Monty Python (@montypython) June 26, 2019