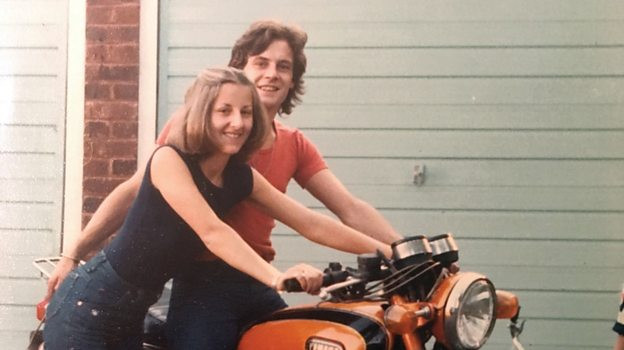 BBC - photo courtesy of Penny Farmer
Paradise, the latest true crime podcast from BBC Radio 5 Live re-examines the case of two backpackers from Chorlton, Greater Manchester who went missing while travelling through Belize in Central America.
Peta Frampton and Chris Farmer were found drowned on 8 July 1978.
They were last been seen on a boat skippered by an American man, Silas Duane Boston who remained the only suspect. Yet he wasn't arrested for 38 years, despite his sons claiming they had witnessed their father murder the couple. He was finally arrested in 2016, only to die in custody before he could be brought to justice.
BBC Radio 5 Live's Stephen Nolan and journalist Dan Maudsley have met Chris Farmer's sister Penny Farmer, Silas Boston's son Vince Boston plus many others to expose the shortcomings in the case.
Over nine episodes, they attempt to discover the truth behind the murders. They retrace Chris and Peta's journey to Belize and examine why the authorities took so long to act: was it a simple mishap that allowed Silas Duane Boston to escape justice for so long, or something more sinister? They also ask – did Boston even commit the murders?
What 5 Live has found not only sheds light on who may have killed Chris and Peta but raises serious questions for US and UK law enforcement.
Paradise is available first on BBC Sounds in nine weekly episodes.
Paradise – A major new true crime podcast from 5 Live

Peta and Chris are in paradise – but they sail into hell…

Exclusively on @BBCSounds ?: https://t.co/IFe1YSXRna

Watch the trailer ⬇️ #BBCParadise pic.twitter.com/lt1WdAPCVj

— BBC Radio 5 Live (@bbc5live) February 26, 2019