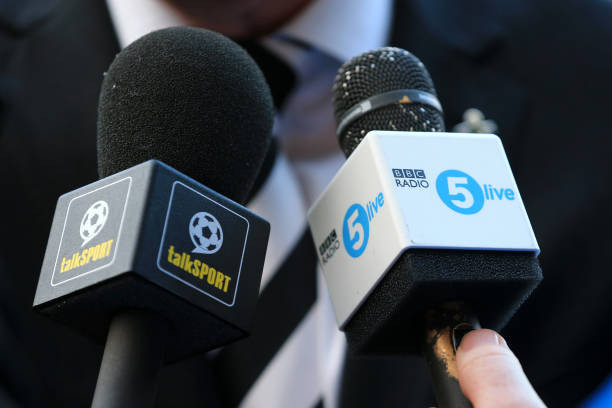 A new report has concluded that BBC Radio 5 Live has "ceased to be a news and sport station", instead suggesting it is a "sport and talk station with a fierce commitment to sport and a lesser, legacy commitment to news".
The BBC has rejected the findings, saying: "This is shameless paid-for lobbying. Given this report was paid for by the parent company of talkSPORT, people can judge its credibility for themselves.
"We reject its headline findings entirely as 5 Live consistently meets all of its regulatory targets; a fact recorded in the BBC's Annual report each year. Even a casual listener would fail to recognise the description this report presents of the station's output."
The research was carried out by academics at the University of Kent. The university's Centre for Journalism was given a research grant by News UK, the parent company of talkSPORT and talkRADIO operator Wireless, to produce the report, which finds that 5 live is not meeting Ofcom's requirement that 75% of output should be news and current affairs.
The report claims the station's 2018 output was 44.95% news and 55.05% 'non-news'. The proportion of news and current affairs output was 48.28% on weekdays and 36.625% at weekends, it says.
Head of the Centre for Journalism, Professor Tim Luckhurst, a former Assistant Editor at 5 Live and a senior member of the team that designed and launched the station, said: "The role of news has never been more important to democratic societies. It is crucial that the public has excellent access to factual, accurate journalism. BBC Radio 5 Live was created to provide such journalism. Our research demonstrates that it is no longer fulfilling all of its commitments as a news provider. We think our findings are important both for the BBC and for its new regulator, Ofcom."
The report also says that the news coverage "reveals an appetite for entertainment, celebrity and music stories in preference to public affairs."
News UK says the research was carried out according to the University of Kent's Standard Terms and Conditions for Research Grants, and without the company's involvement.
The BBC says that it was not consulted by the authors of the report at any stage, and says its own figures show 5 live exceeds its obligation, with 76% of output being news and current affairs programming in the 2017-18 financial year.
Both the academics who carried out the research and the BBC appear to differ on what constitutes news and current affairs. Tim Luckhurst, has told Press Gazette that Ofcom have already been in touch to say they're interested in talking to the university researchers about their methodology.