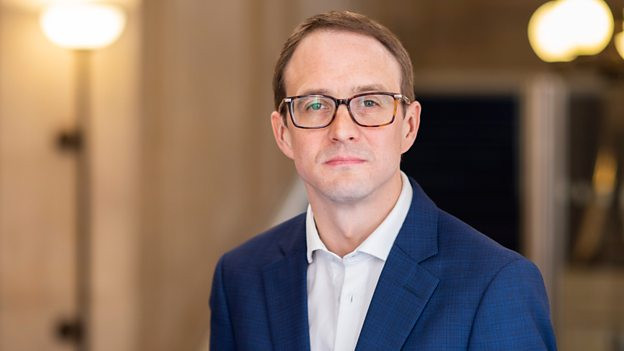 BBC Radio 4 has announced Chris Mason is to be the new host of its Friday night debate programme Any Questions?, replacing Jonathan Dimbleby who stepped down in June after 32 years.
Chris is a Political Correspondent for BBC News and is a regular voice on BBC Radio 5 Live and Radio 4 as well as BBC television. He's also presented on programmes including The World Tonight and PM on Radio 4, as well as Question Time Extra Time, Drivetime and Breakfast on 5 Live.
Any Questions? was first broadcast to the West Country in 1948, before going national in 1950. Its format has adjusted slightly over the years and currently broadcasts from a different town each week. It features a panel of people from across politics, media and elsewhere answering questions on the big topics of the week.
Chris Mason says: "I'm beyond excited to be the next host of Any Questions? To be taking over from someone called Dimbleby of the broadcasting dynasty is pinch yourself stuff.
"There isn't a better point in my lifetime to take on this role. I believe passionately it's the job of the BBC to scrutinise, allow audiences to ask questions of politicians and to have serious but informal conversations so that those in power can be seen in three dimensions.
"On a discussion programme like Any Questions? audiences and listeners can understand not just what someone thinks but why they think that way. That isn't always possible in other places but it's vital in today's battle of ideas. It aids political conversation and informs what we all understand about what's happening in the UK and around the world."
Chris will begin hosting Any Questions? from 18 October.
Thank you @IainDale. If I can be half the presenter you are, I'll be delighted https://t.co/UQr4xZjwK2

— Chris Mason (@ChrisMasonBBC) October 9, 2019