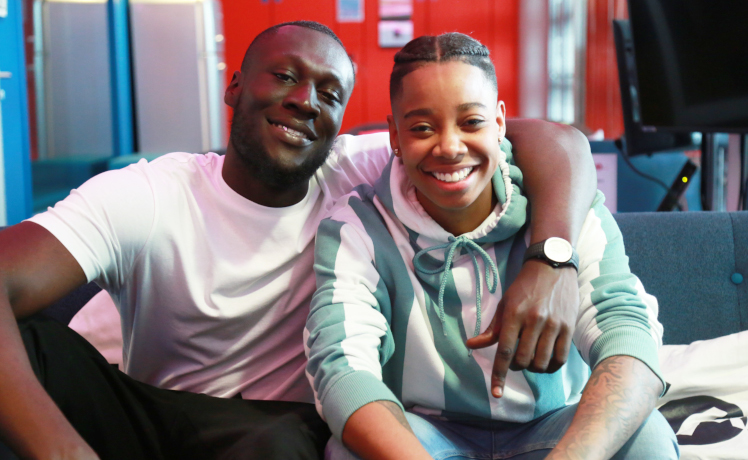 Stormzy was on BBC Radio 1Xtra breakfast this morning giving his first broadcast interview following the release of his new track Vossi Bop.
He told 1Xtra's breakfast host Dotty how he's been sitting on the tune for about three years. 2016 was the first time he teased the track on his Snapchat and explained how he didn't strategically hold back the song, saying: "it happened organically."
Dotty wanted to know about the lyrics in Vossi Bop and asked Stormzy: "Whose girl you taking to the coffee shop?"
Stormzy replied: "That's so funny, someone tweeted me yesterday saying 'Shut up man, you ain't taking no girl coffee shop brov, Maya got you in her head brov.' It's fair enough haha…I ain't taking noone's girl coffee shop before I get my head snapped. Just to be very clear before I get wrapped up at home – I don't want no smoke please."
He also talked about making new music, he said: "I needed the break…100%…to recoup and really focus on the album and on my artistry.
"I had to look into myself and say this is the second stage of my career…second album, how do you level up and I really honed into my craft and dedicated these past two years to making an incredible album that impresses myself in the sense of I know what I can do and know what I have achieved, and I know the quality of music I've made this far but this whole two years has been about levelling up."
When asked about headlining at Glastonbury, Stormzy made the point that being a musician is important to him, he said: "I'm not just Stormzy as in popular for whatever reason…I'm there because I am a serious musician. I'm kind of done talking – there's a build-up and this time round I'm ready…I got the album and we are going to show the world exactly why I should be headlining Glastonbury…and exactly why I managed to get here in my career."
You can hear the BBC Radio 1Xtra Breakfast Show with Dotty weekdays from 6-10am
.@stormzy addresses the haters ahead of his Glastonbury headline show ?

Full #1XtraBreakfast w/ @AmplifyDot interview ?= https://t.co/Vj7Bv4t0vW pic.twitter.com/H5L2eEEkbH

— BBC Radio 1Xtra (@1Xtra) April 26, 2019