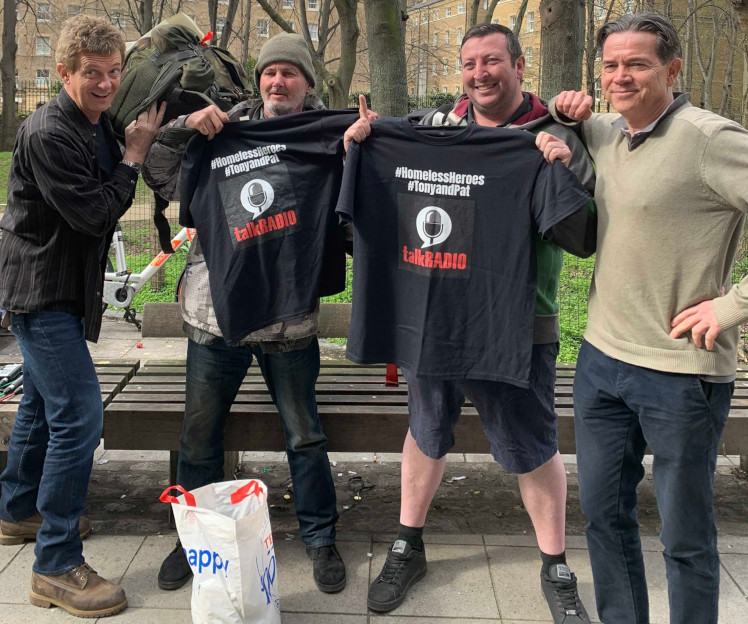 A Homeless Heroes campaign has been started by the Matthew Wright Show on talkRadio to support two homeless men who are going to walk more than 100 miles to raise awareness of mental health.
Matthew met Tony Long and Patrick O'Brien, who live on the streets near the talkRadio studios, when he was on his way into work.
Both Tony and Patrick have suffered with mental health problems, which led to them being homeless.
In an effort to raise awareness of mental health of the homeless, and those on the brink of it, they've set of on walk from Brentford to Bristol.
When they told Matthew what they wanted to do, he says: "It seemed obvious for us at talkRADIO to get on board and help them.
"Since then, the plan has exploded and co-host Kevin O'Sullivan will spend a night with them. We'll be discussing homelessness in the Royal Borough of Windsor and throwing a huge reception for the two gents when arrive in Bristol in time for Easter."
There will be regular updates from the walk on-air, with Kev joining them in Windsor to walk with the pair and spend a night in a tent with them too.
Kevin says: "I'm looking forward to spending a night with Tony and Pat. Tony is a former chef and is going to cook us a banquet.
"I once offered to buy them both takeaway but they turned me down."
They're due to reach Bristol on Easter Sunday and when they arrive, Matthew is taking them to a Hawkwind gig in Frome, where the band will greet them on stage.
The Matthew Wright Show is launching a campaign to support the journey of Tony Long and Patrick O'Brien as they march from Brentford to Bristol to raise awareness of mental health problems causing homelessness.@Matthew_Wright | @TVKev | @HawkwindHQ pic.twitter.com/c5tv9flEJt

— talkRADIO (@talkRADIO) March 28, 2019