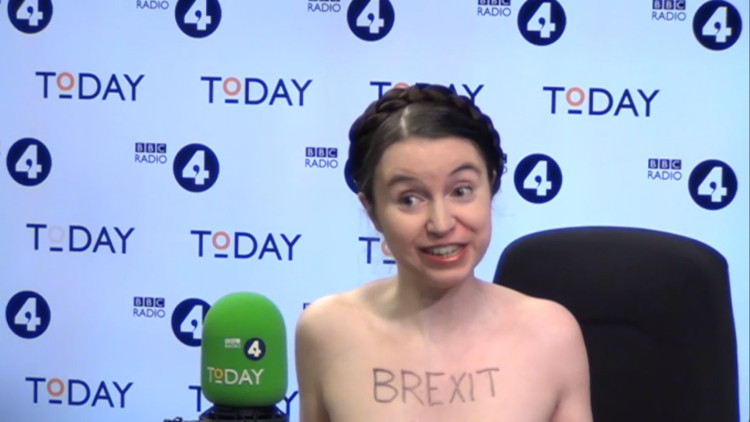 Source: BBC
Listeners to BBC Radio 4's Today programme heard John Humphrys interviewing a nude economist this morning.
Dr Victoria Bateman of Cambridge University was discussing her rather different approach to opposing Brexit. She had the slogan 'Brexit Leaves Britain Naked' written across her body.
She explained her reasoning behind the slogan, but John Humphrys responded that other people wearing clothes had made those arguments previously, so why did she feel the need to remove hers?
In her reply, Dr Bateman said, "Brexit is the Emperor's New Clothes.
"What is wrong with a modern day woman taking control of her body and using it to give voice to what is the most pressing political subject in Britain right now?
"I am doing this for the words written on my body. Brexit leaves Britain naked."
She also invited Jacob Rees-Mogg to do a naked debate with her, so they could get to the roots of the issue.
Earlier this week, John Humphrys announced he's to step down from presenting the Today programme later this year. This morning's interview with Dr Bateman is probably one he's not likely to forget in a hurry!
On @BBCr4today this morning after 8.40am talking about #Brexit & #NakedProtest. I hope the studio is warm enough! #BrexitLeavesBritainNaked #r4today pic.twitter.com/XW71MDMGTy

— Dr Victoria Bateman (@vnbateman) February 8, 2019