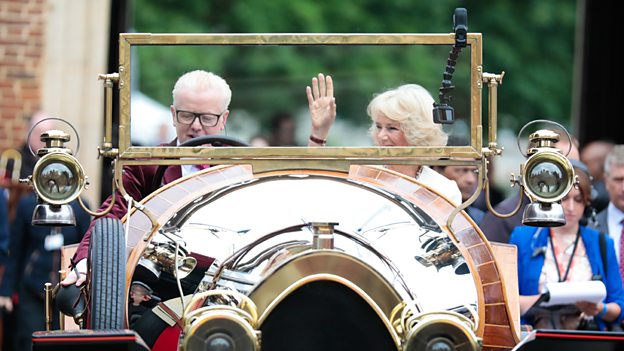 The six winners of this year's BBC Radio 2 Chris Evans' Breakfast Show 500 Words competition were announced this morning in a special broadcast live from Hampton Court Palace Festival, attended by HRH The Duchess of Cornwall.
Now in its eighth year, the competition received a record 134,790 entries from children aged between five and 13 from all over the UK, who composed an original work of fiction using no more than 500 words.
Honorary Judge, HRH The Duchess of Cornwall, arrived aboard Chitty Chitty Bang Bang and once all the winners were announced delivered a speech to the audience of over 3000 people at Hampton Court. The Bronze, Silver and Gold winning stories across the two age categories (5-9 years and 10-13 years) were revealed and read out on-air by celebrity narrators Dara O'Briain, Amanda Abbington, Jason Isaacs, Shobna Gulati, Jim Broadbent and David Walliams. Plus there was fantastic live music from John Newman, Alexandra Burke and Bastille. The Top 50 finalists, plus 3,000 of this year's entrants and volunteer judges were in the audience to enjoy the show.
For this year's prize, all six winners will have the opportunity to go for a ride in Chitty Chitty Bang Bang at Hampton Court Palace. They will be driven down to the river where they will board HM The Queen's rowbarge, Gloriana, and be treated to Tea on the Thames which will include a beautiful book themed cake made by 2016's Great British Bake Off winner, Candice Brown.
For a third year, HRH The Duchess of Cornwall joined the competition's judging panel – award-winning and best-selling authors Malorie Blackman, Charlie Higson, Frank Cottrell-Boyce and Francesca Simon – as an Honorary Judge. Between them, they had the difficult task of choosing the six winners from the Top 50 stories which were shortlisted by 5,000 volunteer judges and The Reading Agency.
Chris Evans says: "Once again I'm absolutely astounded by the quality of the writing and the scope of these young authors' imaginations. The stories really are incredible and a joy to read – every single child that entered should feel massively proud of themselves. Keep those pens poised for next year!"
The winners are:
Age 5-9 category
Gold
The Poo Fairy by Evan Boxall. Read by David Walliams.
Frank Cottrell Boyce says: "A brilliantly silly concept – the Poo Fairy – that was rigorously thought-through, full of great jokes but coming to a thoughtful, insightful conclusion. A really mature and accomplished piece of storytelling."
Silver
The Little Messenger by Fionn McCann. Read by Jim Broadbent.
Charlie Higson says: "This touching story has the feel of the folk tale about it. It shows that kids aren't afraid to confront some quite serious topics."
Bronze
Agent Ramsbottom and the Mysterious Fish and Chips by Francesca Wade. Read by Dara O'Briain.
Francesca Simon says: "What an incredibly wacky and wonderful world created!"
Age 10-13 category
Gold
Dancing on the Streets by Sadhbh Inman. Read by Shobna Gulati.
Frank Cottrell Boyce says: "We can't begin to praise this story enough. It was elegant, moving, sad and sweet. The character of the undefeated little girl will stay with us for a long, long time.
Silver
A God Vacancy by Aoife Maddock. Read by Amanda Abbington.
Francesca Simon says: "Thought-provoking, playful and entertaining, and I thoroughly enjoyed the broader message too."
Bronze
AI by Arthur Edmonds. Read by Jason Isaacs.
Malorie Blackman says: "Dark and intriguing, I was drawn in from the start!"