Vernon Kay reveals his challenges for Children in Need 2023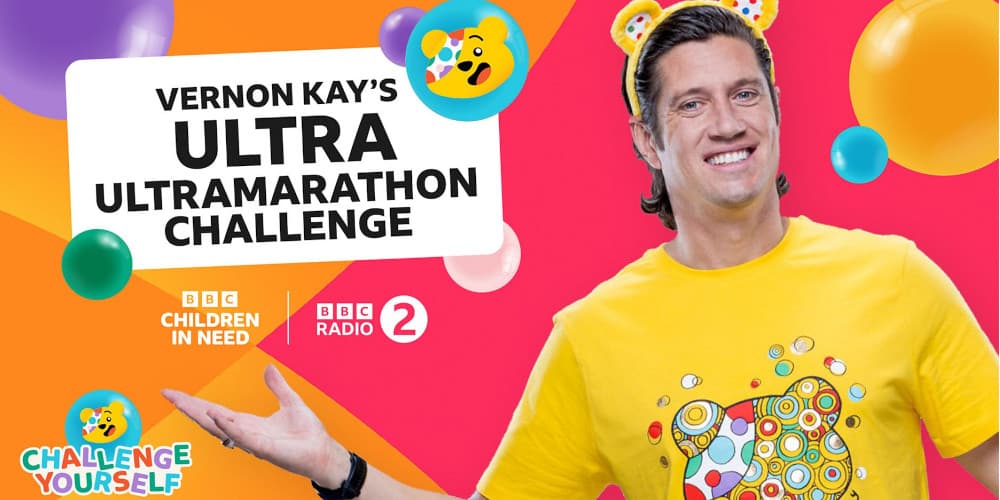 Vernon Kay says he's "up for it" to take on marathons and ultramarathons to raise money for this year's Children in Need.
Joining Zoe Ball on her Breakfast Show this morning, the BBC Radio 2 mid-morning host revealed he'll spend four days to get from Victoria Park in Leicester, recent home of Radio 2 in the Park, to Bolton Wanderers' football stadium in his hometown in Vernon Kay's ULTRA Ultramarathon Challenge!
Vernon will start his challenge on Tuesday 14 November, aiming to finish around 9am on Friday 17 November (BBC Children in Need Appeal day). He'll cover about 115 miles on foot and it will be broadcast live on Radio 2 and BBC Sounds, with video highlights and further coverage on Radio 2's social channels.
With support from his Radio 2 colleagues during their shows, Vernon will also be broadcasting his own weekday morning show live while doing the challenge! He'll be joined on his journey by a variety of special guests to keep him going.
Vernon says: "I was just settling into my new mid-morning routine and now this! Everyone who has previously undertaken a BBC Children in Need challenge has raised so much money for this brilliant charity, so the pressure is on, but I'm up for it… so come on, let's do this!"
Helen Thomas, Head of BBC Radio 2, says: "Who better than to take on this year's Radio 2 challenge for BBC Children in Need than the newest member of our family and Bolton's very own, Mr Vernon Kay. Run, Vernon run, we're all super proud of you!"
Simon Antrobus, BBC Children in Need Chief Executive adds: "In recent years, the wellbeing of children and young people across the UK has been hugely challenged, sadly making the lives of children and young people facing disadvantage that much harder, so we are thrilled that Vernon is taking on such an enormous challenge to help make a difference when it is needed most. We will be cheering him on every step of the way!"