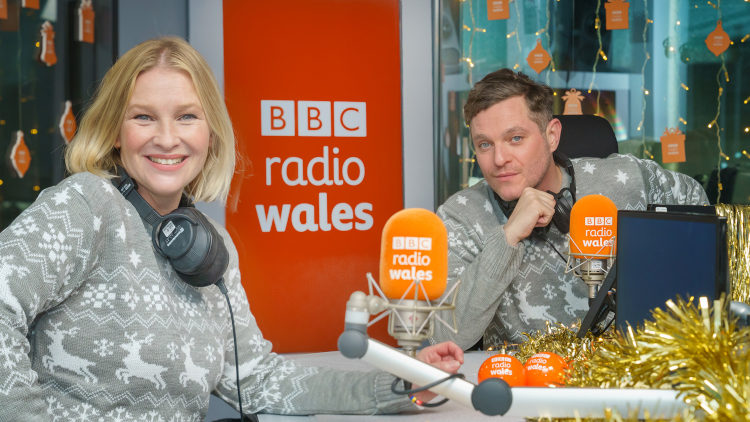 Fans of Gavin & Stacey will be pleased to hear that the pair are hosting a show on BBC Radio Wales on Christmas Day and some of their friends will be joining them too.
Gavin and Stacey Shipman aka Matthew Horne and Joanna Page will be taking over the airwaves on the station between midday and 2pm and don't worry if you can't hear it because the show will also be on BBC Sounds.
Joanna is no stranger to the station, having presented a series of Sunday morning shows earlier this year, she says: "I absolutely love Christmas and I've been having a fantastic time doing my show on BBC Radio Wales, so when it came up that we could do a Christmas day show I knew that if there was anybody I'd want to share that with, it's Mat. I love working with him, he's so much fun."
Mathew adds: "I jumped at the chance to do this show with Jo. I love working with Jo, I love Wales and I love doing radio.
"Christmas day is a special day and, particularly this year, it's been very challenging for a lot of people, so it's nice to feel like we might be bringing a little bit of joy."
Gavin & Stacey co-stars Melanie Walters, Larry Lamb, Alison Steadman, Steffan Rhodri, Robert Wilfort and Laura Aikman will be popping in to add to the fun, with Bonnie Tyler and Shakin' Stevens joining them too. There will also a special message from Gavin & Stacey co-creator James Corden.
Joanna says: "I'm really looking forward to chatting to some brilliant friends and guests on the show. We've got some really good quizzes, classic Christmas music and a bit of fun!"
Editor of BBC Radio Wales, Colin Paterson says: "We're excited to be reuniting Joanna and Mathew this Christmas. Having Wales' best loved couple, out of character, is a real treat. We hope their sense of fun will lift everyone's spirits."
Crackin' festive news! ?

We're delighted to announce that Gavin and Stacey stars @jopage_ and @mfhorne are coming to @BBCRadioWales this Christmas Day! ✨#GavinAndStacey pic.twitter.com/28VpC6k23x

— BBC Radio Wales (@BBCRadioWales) December 2, 2020