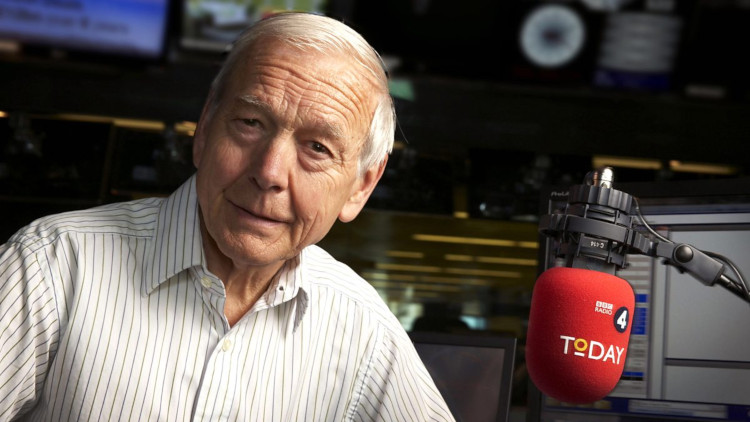 After 32 years on BBC Radio 4's Today programme, John Humphrys presented his final one this morning.
It's a big day on the @BBCr4today programme as John Humphrys opens his final programme #r4today pic.twitter.com/prJsisRzE7

— BBC News Press Team (@BBCNewsPR) September 19, 2019
During his time on the programme he built a reputation as a persistent and relentless interrogator of politicians, which at times, has caused some anger from both politicians and listeners.
BBC director general Lord Hall wrote about him in the Daily Telegraph: "He is driven by a profound sense of justice and a deep distrust of authority. It means that he has always, unerringly, represented the listener and championed their right to know.
"There is perhaps no greater tribute than the collective sigh of relief issued by leaders and public figures all over the country."
The BBC's Director-General, Lord Tony Hall, thanks John Humphrys for his time as a presenter on #r4Today https://t.co/StyNOjvez8 pic.twitter.com/StvFZiUYJv

— BBC Radio 4 Today (@BBCr4today) September 19, 2019
Although Humphrys didn't get to interview Boris Johnson as Prime Minister, he has done so with every other PM from Margaret Thatcher to Theresa May.
On his interviewing style, Today editor Sarah Sands says: "He's a terrier, he doesn't let go. John is rather caricatured in that way. He's capable of that style of interviewing, he's supple as well."
There's no plans to replace John Humphrys, the programme will continue with four main presenters – Justin Webb, Mishal Husain, Martha Kearney and Nick Robinson.
John, 76 is the longest serving presenter on the Today programme and when he announced he was standing down last February, he told The World at One: "I love doing the programme, I have always enjoyed it, always loved it. And I still (do), that's the problem; I should have gone years ago, obviously I should have gone years ago, but I love doing the programme."
At the end of his final programme this morning after many tributes were paid to John on-air, he emotionally said his final goodbyes by thanking many people, but most of all his listeners.
He ended by saying: "I'm more proud than I can say that you have put up with me for so long. Thank you all of you, and I do hope you keep listening," he said. "Today matters for tomorrow – and if that's a rather corny way to end my years on the programme then so be it."
Final pictures of John Humphrys with former and current presenters on #humphryslastday #r4today pic.twitter.com/sMwbgI8vJa

— BBC Radio 4 Today (@BBCr4today) September 19, 2019