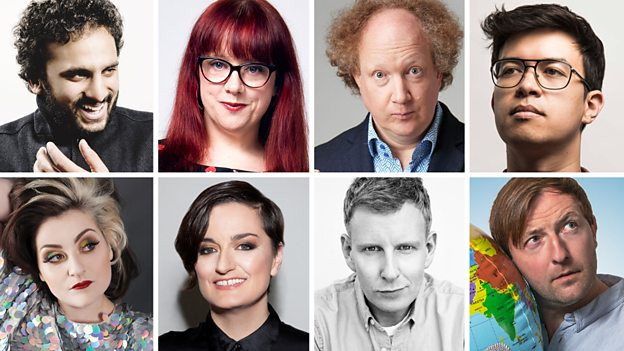 In celebration of the 100th series of The News Quiz on BBC Radio 4, it's been announced that a list of comedy names will each host an episode.
Nish Kumar, Angela Barnes, Andy Zaltzman, Phil Wang, Kiri Pritchard-McLean, Zoe Lyons, Patrick Kielty, and Andrew Maxwell have been lined-up to present the series, which begins on 30 August.
The first episode will be hosted by award-winning comedian Zoe Lyons who's been a regular panellist on the programme since 2016. She says: "What an absolute treat to be allowed to take the helm on this brilliant show. Miles left impossibly big shoes to fill so I'll have to bring my own rather sensible slip-ons for the occasion."
Nish Kumar who is regularly on TV and on radio has hosted Radio 4 Extra's Newsjack for four series, as well as two series of his Radio 4 programme Spotlight Tonight with Nish Kumar.
Angela Barnes was winner of the BBC New Comedy Award in 2011. She has written and appeared on The News Quiz and says: "When I started comedy, I did an interview for industry website Chortle and they asked me what my dream job would be. I said it was to be on The News Quiz panel so, as you can imagine I'm pretty excited to now have the chance to host!"
Andy Zaltzman was first on the panel show in 2006 and has been in a range of comedy, sport and political programmes across the BBC.
Phil Wang is currently completing a sold-out run in Edinburgh. He says: "It's about time I hosted The News Quiz. For too long has it been presented by the informed."
Kiri Prichard-McLean currently hosts Radio 4 Extra's Newsjack and is a regular on Radio 4.
Patrick Kielty has presented on BBC Radio 2 and on a variety of TV shows, including BBC One's The One Show and ITV's Celebrity Love Island.
Andrew Maxwell has appeared on many TV shows and presents the Radio 4 comedy, Welcome To Wherever You Are, and had a Radio 4 series Andrew Maxwell's Public Enemies in 2013. Andrew says: "As an avid Radio 4 listener, it's a real honour to be asked to host the News Quiz. I'm chuffed!"
The News Quiz was first broadcast in 1977 with Barry Norman as the chairman. The BBC says the next host for the programme will be announced in due course.