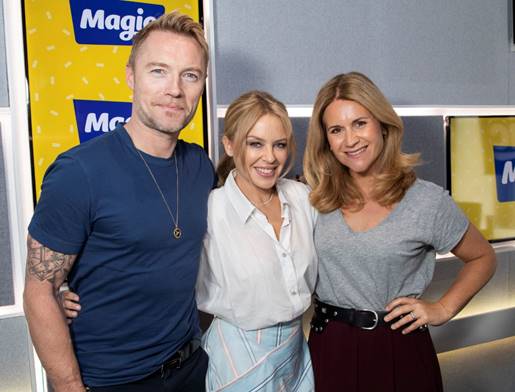 Kylie Minogue was a guest on Magic Breakfast with Ronan & Harriet this morning and she announced she's playing an intimate show at a secret London location later this month.
This follows her performance at last month's Glastonbury Festival and promises to include many of her hits.
Speaking to Ronan and Harriet, Kylie said: "A secret gig, how exciting! Do any of us know where we're going? The one thing I do know is it's very exclusive. I love intimate shows because you can really chat and interact with the audience, it's going to be super fun."
Ronan Keating said: "Kylie is a complete superstar, and we're so thrilled to be able to offer our listeners the chance to see her live up close". Co-host Harriet Scott added "Ronan's even digging out his gold hot pants for the occasion!"
Kylie's 'Legends' slot was the most watched performance of the BBC's Glastonbury 2019 coverage, with a peak of 3.9 million viewers.
She's sold more than 80 million albums worldwide and won multiple awards, including 3 BRIT Awards, 2 MTV Music Awards and a Grammy. Her new album 'Step Back In Time: The Definitive Collection' went to No.1 in the charts last week.
Now fans will have the chance to see her in an intimate setting on Friday 26th July.
Magic is giving away tickets to the secret gig on shows across the station, starting with a competition on today's (Tuesday 10 July) Drivetime with Richard Allinson.