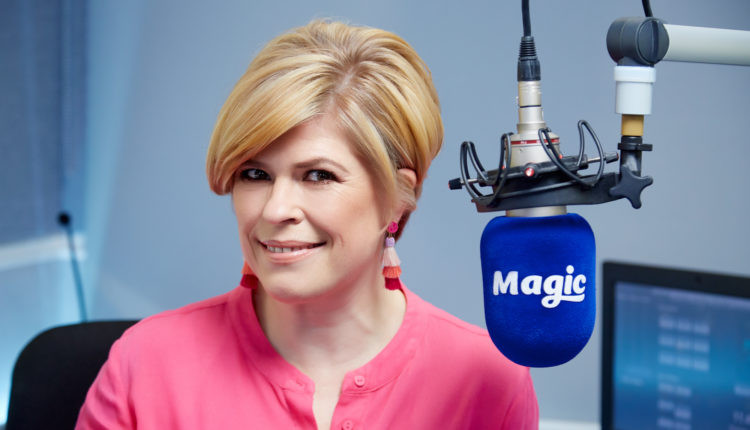 Emma B, who currently presents on Magic Radio weekends, is moving to host the weekday afternoon show.
The move follows current afternoon host, Angie Greaves announcing she's leaving the station to present a new national drivetime show on Smooth Radio.
Former Radio 1 and Smooth presenter, Emma B's new afternoon show launches on 1 July, and talking about the opportunity told OnTheRadio: "I am so totally thrilled to be presenting Magic Radio Afternoons.
"The station has been a dream to work on whether chatting on-air with the listeners, playing out their favourite tracks or getting out and about hosting the stage at the Palace to Palace Bike Ride for the Prince's Trust and West End Live in Trafalgar Square. I can't wait to get going on the new show and everything that Magic Radio brings!"
Emma's early career involved Radio Caroline and BBC Radio Oxford, she joined Radio 1 in 1998 to do early breakfast on Saturdays, later moving to Saturday afternoons, overnights and the Sunday Surgery before Saturday breakfast 2001-2003.
In 2005 she left to join Heart, where she became the first solo female presenter to take the number 1 slot on a drivetime show in London.
She also worked for Smooth from 2011 and her career has also seen her broadcast on stations including 6 Music, the BBC World Service, 5 Live and LBC. She moved to work in the charity sector before a return to regular radio with Magic in March 2018.
Angie Greaves who was a host at the station for over 12 years, speaking about handing over the reins to her successor, Angie said: "I leave knowing that the show is in the very best of hands. Emma is one of the UK's best radio broadcasters and I couldn't be happier to see a show I have loved go to her.
To say I've had a good time at Magic Radio would be an understatement, and I will miss this great station and the extended family that I've worked with over the last 13/14 years. The brand has never had more listeners than it has in the last year and I look forward to seeing it continue to grow."