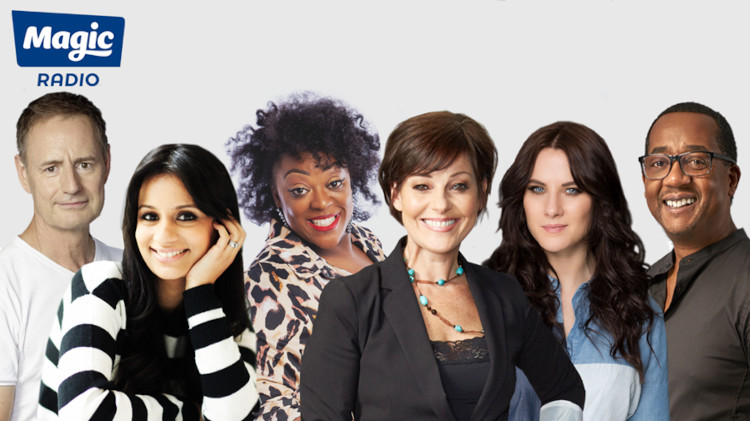 Magic Radio has launched its new Spring schedule with new shows from Simon Phillips, Sonali Shah, Richard Allinson, Kat Shoob and Judi Love.
Magic Soul presenter Simon Phillips joins the main station to present weekdays from 4-7pm and Escape to the Country and BBC Newsreader Sonali Shah is a new addition to the Magic Radio line-up, as she takes over Sunday Breakfast from 7-10am.
Elsewhere on weekends, Richard Allinson is launching a new evening show on Fridays, Saturdays and Sundays from 7-10pm, while Kat Shoob will present Saturday Afternoons from 1-5pm. Comedian and TV personality Judi Love also joins Magic to present a 6-part series from 5-7pm with laughs, music and her take on the week gone by.
Simon Phillips said: "Whether the Magic Radio listeners are working from home, picking the kids up from school, or travelling home from the office, I can't wait to entertain them with the songs they love from 4pm every weekday.
"There will be a whole host of features too, from listeners filling us in on their fun stories about their good or bad days, as well compiling 'The Essential 100', the songs that they think every listener should love.
"It will be a bit different too as I will be broadcasting from my home, so I will be giving the UK a view of Leicester life."
On her new Sunday Breakfast show Sonali Shah said "I'm thrilled about joining the Magic family and being able to hang out with the listeners every week. I'd also like to thank Magic for giving me my Sunday mornings back…I've certainly missed those since having kids!"
Elsewhere on the Magic Radio Network, West End Star Ruthie Henshall who presents Behind the Stage Door on Magic at the Musicals moves to a new slot of 10am-12pm on Saturday and Sunday.
Magic Radio's Spring Schedule
Monday – Thursday
4-6am – Early Breakfast with Paul Hayes
6am – 10am – Magic Breakfast with Ronan and Harriet
10am – 1pm – Mid Mornings with Nick Snaith
1pm – 4pm – Emma B
4pm – 7pm – Simon Phillips
7pm – 10pm – Lynn Parsons
10pm – midnight – Jim Davis
Fridays
4-6am – Early Breakfast with Paul Hayes
6am – 10am – Magic Breakfast with Ronan and Harriet
10am – 1pm – Mid Mornings with Nick Snaith
1pm – 4pm – Emma B
4pm – 7pm – Simon Phillips
7pm – 10pm – Richard Allinson
10pm – midnight – Paul Hayes
Saturdays
6-10am – Magic Weekend Breakfast with Tom Price
10am – 1pm – Saturday mornings with Dan Morrisey
1pm – 5pm – Kat Shoob
5pm – 7pm – Ronan Keating
7pm – 10pm – Richard Allinson
10pm – midnight – Paul Hayes
Sundays
7 – 10am – Sonali Shah
10am – 1pm – The Magic Request Show with Lynn Parsons
1pm – 5pm – Jim Davis
5pm – 7pm – Judi Love & Kat Shoob (6 week run)
7pm – 10pm – Richard Allinson
10pm – midnight – Paul Hayes