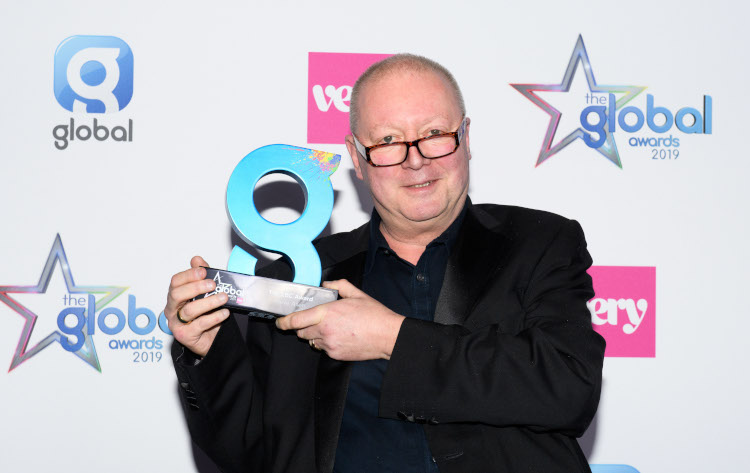 LBC presenter, Steve Allen was honoured at the Global Awards at London's Eventim Apollo Hammersmith last night when he picked up The LBC Award.
Steve is one of Britain's longest-serving radio presenters and is celebrating his 40th anniversary at LBC this year.
His weekday early breakfast show is a mix of discussion of stories from the day's newspapers, his personal anecdotes and his gripes about daily life. He's well-known for his often witty, critical and sometimes derogatory comments about celebrities.
Steve was picked by the public as their winner of The LBC Award, which was presented to him by LBC's Nick Ferrari and Classic FM's Moira Stewart.
Speaking on-stage as he collected the award, Steve said: "Oh my god. Oh, my goodness, there's a week's worth of programming in this room tonight. I've been looking round the tables and I've featured most people in here, most people.
"I have to thank James Rea. Tom, thank you so much. Ofcom, Ofcom I thank on a daily basis, I've basically got a hotline to Ofcom. They love my show, they really do. I have to thank Ashley who has just been such a big supporter, thank you so much.
"I never thought 40 years ago that I would still be working on the same station and still working. I think I'm living proof that some decrepit old tart like me can actually get an audience at 4 o'clock in the morning. It's a miracle. I love every day, I love everything, everything about it and at the end of the month they give money. Please god it continues.
"I'm not supporting anybody, but I might after tonight. I love working with the people at LBC, they're so nice. I see so many friends in this room that I see at work all the time and I love every single one of you. Even you lot down here!
"So, thank you, thank you so, so much for this. You've no idea what this means, and I generally cry quite easily so I am going to try not tonight and just say, thank you!"
Here's the special moment @SteveAllenShow was honoured for his 40 years on @LBC, as voted for by his adoring listeners ? #TheGlobalAwards pic.twitter.com/AJx837bBuG

— Global (@global) March 8, 2019
Here's Steve talking backstage after picking up his award: