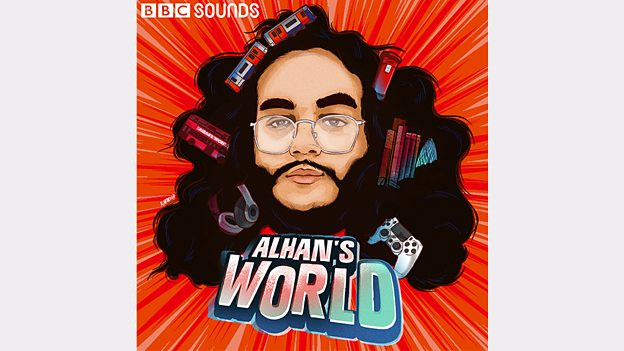 Described as a 21-year-old troublemaker, Alhan Gençay is bringing a new podcast series to BBC Sounds from Thursday 9 July.
Alhan's World will investigate life's big questions by picking the brains of some of the nation's finest MCs, celebs, comedians, and even a few experts who know what they're on about.
It's said to be a star-studded affair, featuring grime royalty tackling questions like: what's up with Eton? would immortality be fun? how will the world end? is history for wastemen? and does size matter?
Alhan said: "Alhan's World is my new show on the BBC which they're super lucky to have. It's been an honour to get paid to sit in my boxers and chat rubbish for weeks on end. I hope you enjoy the end result and don't contact Ofcom."
Guests include Musician Lily Allen, astronaut Tim Peake, comedian Very Vee Brown, founder of an alternative porn website Cindy Gallop, legendary Buddhist monk Gen Kelsang Tharpa, grime MC Jme, the grime scene's favourite granny Grime Gran, primateologist Jane Goodall, hostage negotiator Matthias Schranner, Alhan's old friend Big Zuu, wellness guru and 'urine therapy' advocate Leah Sampson, one of the UK's top chefs Michel Roux Jr, King of the Internet, YouTuber and rapper KSI, the President of the UK Roundabout Appreciation Society (aka the Lord of the Rings) Kevin Beresford, the big beast of British politics, former Chancellor Ken Clarke and queen of Dragon's Den Deborah Meaden to name a few.
🚨 INCOMING: NEW PODCAST 🚨@Alhan's World is coming to BBC Sounds on Thursday 9th July.

Subscribe and listen to a teaser now 🎧 https://t.co/vzTOHBELYZ pic.twitter.com/xJKP7Tub9p

— BBC Sounds (@BBCSounds) July 2, 2020
Episode 1 of Alhan's World will be available from Thursday 9th July on BBC Sounds