When George met Michael: a special programme about recently discovered rare Radio 1 tapes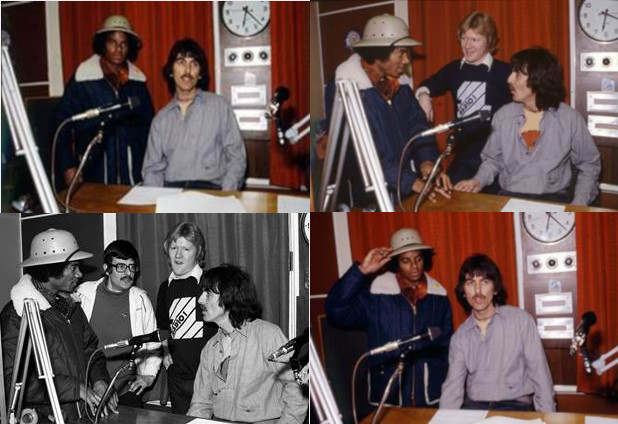 40 years ago, on 9th Feb 1979 a fascinating interview was broadcast between Michael Jackson and George Harrison, both of whom rarely gave interviews.
They met on an edition of BBC Radio 1's Roundtable, hosted by David 'Kid' Jensen where they reviewed the latest releases of the week and chatted in a very rare informal style about life and their experiences in the music industry.
The BBC never kept a copy, but now a rare recording of the programme has been found.
Programme makers, Richard Latto and Alex Dyke have painstakingly remastered it for broadcast in a special one-hour documentary to be aired exactly 40 years to the day of the original broadcast.
Paul Gambaccini presents the programme, which includes fresh interviews with Kid Jensen, Judd Lander, who has fascinating stories of being Michael's PR guy that day, and several others who were associated with the broadcast, including autograph hunters from the day and respected producer and Beatles historian Kevin Howlett.
The chat between the two star guests provides some amazing insights for Beatles and Jackson fans.
Michael talks about how difficult it was to achieve recognition as a songwriter, while George explains his song writing challenges compared to Lennon and McCartney. He also talks about how everyone seems to think that John and Paul wrote "Something", but it wasn't them.
There are so many interesting facts and stories to come out of this special rare edition of BBC Radio 1's Roundtable, which haven't been heard since it was first broadcast 40 years ago. It's fascinating to hear George and Michael talk so candidly about music, work and life in such a relaxed environment, expertly anchored by Kid Jensen.
When George met Michael can be heard on BBC Radio Solent on Saturday 9th February at 11am and it will also be available on the BBC Sounds website for 30 days afterwards.
Here's a promo trail for the programme: