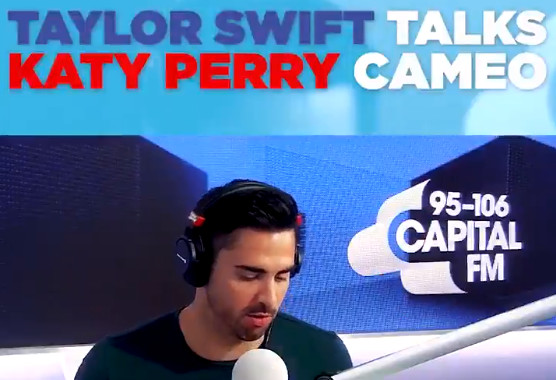 Taylor Swift has been talking to Rob Howard who's on Capital Breakfast for Roman Kemp, Vick Hope & Sonny Jay who are on holiday this week.
Taylor spoke about reconciling with Katy Perry, which lead to Katy's cameo in Taylor's 'You Need To Calm Down' music video, in an interview which will air tomorrow morning on Capital Breakfast.
Rob asked: "One thing we've got to talk about – you dressed as fries, Katy Perry dressed as a burger. How did that come about?
"She and I have really been on good terms for a while," Taylor replied, adding: "She sent me a really nice note and an olive branch to the – like an actual olive branch – to my tour when it started, the Reputation stadium tour, a while ago.
"From that point on we've been on good terms. Then we saw each other at a party and walked up to each other and hugged it out and talked about things, and then we saw each other again and hung out at another party and it was just like something felt so much lighter about my life when things became really good between us.
"And, you know, she and I have been fine for a while and really on good terms, but we didn't know if we were ever gonna really tell people about it. We wanted to make sure that was solid between us before we ever made the public aware."
📞 @taylorswift13 called Capital after dropping the #YNTCDMusicVideo and revealed how her and @katyperry became friends again 🙌💕

Hear the full chat tomorrow morning on Capital Breakfast 👉 https://t.co/du34QSITuE pic.twitter.com/bRHv1plezC

— Capital (@CapitalOfficial) June 17, 2019
You can hear Taylor Swift's interview in full on Capital Breakfast tomorrow (Tuesday 18th June).