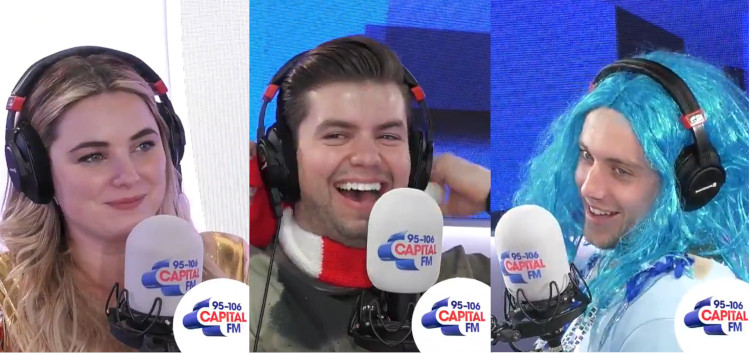 This morning on Capital Breakfast, Roman Kemp and Sian Welby threw their support behind their co-host Sonny Jay as he prepares to take part in Dancing on Ice by presenting part of the show in Blades of Glory-themed costumes.
Sonny also revealed his nerves ahead of this weekend's launch and said his skating partner Angela Egan is "absolutely fine" following their "epic fall" during training.
Roman and Sian recreated the much-loved ice-skating film's most iconic looks in support of #TeamSonny, with Roman donning pale blue spandex and sequins in character as Jimmy MacElroy and Sian channelling Will Ferrell's character Chazz Michael Michaels in a costume adorned with gold and red flames – a great look for radio!
Referring to the little mishap, Sian asked about it.
"What you're referring to is there's a video of me dancing with my partner Angela and I tried swinging her around on the ice and she fell," Sonny answered.
Sian was quick to point out that Angela fell on her head.
Roman asked if she's ok?
"She's fine, she's absolutely fine," Sonny responded, "We got up, we carried on, we had a good laugh about it, but it was an epic fall."
Sonny admitted that he's feeling really nervous about competing in the show and doesn't want to go on it, fall over and then be a meme the next day. He also said that the training is going really well and he's looking forward to getting started.
Once you've seen @romankemp and @Sianwelby in tight Lycra, it can never be unseen, can it, @SonnyJay? ??? pic.twitter.com/NtcdxkjmEW

— Capital (@CapitalOfficial) January 12, 2021
Hear Roman Kemp, Sian Welby and Sonny Jay on Capital Breakfast, weekdays from 6am – 10am.