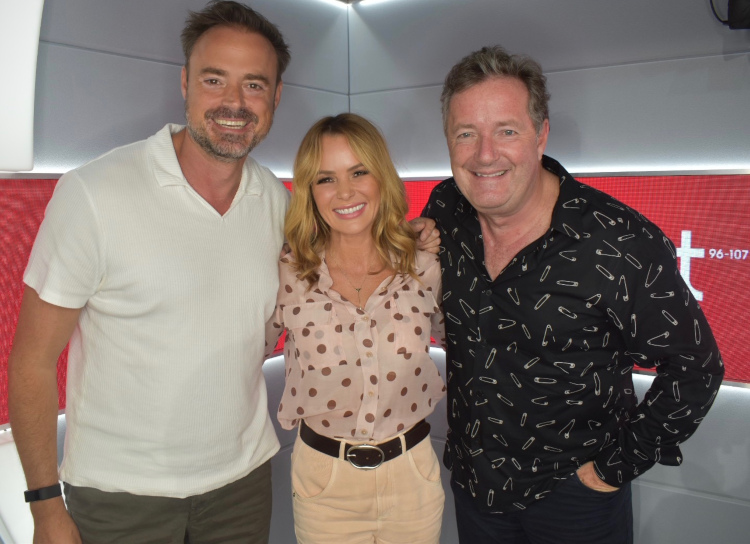 Amanda Holden giving electric shocks to Piers Morgan is probably not what Heart Breakfast listeners expected to hear this morning, but that's what happened, and some may have enjoyed hearing his squeals.
Piers was a guest on the show this morning and faced being electrocuted by Amanda, who was armed with an electric shock pen, for every question he refused to answer.
Why anyone would have one of these pens is anyone's guess, let alone using it live on air, but to be fair, Amanda did do a disclaimer before starting, saying: "It is safe for children of three and up. Obviously don't try it at home unless you've got Piers Morgan sat next to you."
Explaining that because Piers grills his guests, Amanda said: "So I am going to give you a bit of a grilling because that's what you do to your own guests but I'm not going to put you in too much of an embarrassing situation though, but I am going to prod you if I don't feel that you give me a good enough answer."
When asked, when are his children's birthdays, he received a prodding before he had a chance to answer. He knows when they are but was given a shock because Amanda said he'd delayed answering!
Jamie Theakston wanted to know: "Alan Sugar or Jeremy Clarkson?"
Piers responded: "Oh my god. Talk about death by hanging or death by garrotting. No, do I have to take either? Seriously, I'd rather take the pain than choose. I'd rather be electrocuted."
He also revealed the first time he met his wife Celia when Amanda asked: "You got Lord Sugar to reveal the romantic story of how he proposed to his wife on Stratford flyover. Can you remember where you met Celia?"
"Yes I can actually," Piers replied, "I was doing a speech on front of 1000 people – magazine editors, in some fancy hotel in Mayfair and I absolutely died on my backside to the extent that they were openly jeering me, and the only person that was laughing was Celia, who I'd never met, and I went 'who's that?'. She said 'that just bombed' and I said 'I thought that was hilarious' but she was laughing really at my discomfort. So I realised then that she would be perfect bride material!"
.@piersmorgan squeals as @AmandaHolden prods him with electric shock pen 😱⚡️ pic.twitter.com/82JZOCkdv6

— Heart (@thisisheart) June 27, 2019
Tune in to the all new nationwide Heart Breakfast with Jamie Theakston and Amanda Holden, weekdays from 6.30am – 10am.