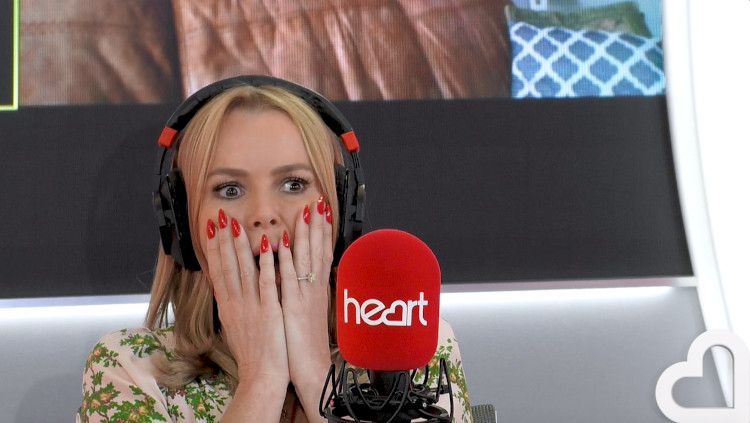 Amanda Holden squirmed as a "listener proposal" went horribly wrong on Heart Breakfast this morning in an excruciating April Fool's prank.
Amanda was left shocked and feeling "so sick" during the awkward chat with "listeners" Sarah and Tom, who are actors. Tom's proposal swiftly unravelled after Sarah revealed the couple had previously broken up over Tom's obsession with Amanda, who is on his laminated list.
It all started ok with Tom telling Jamie and Amanda he wanted to propose to his girlfriend Sarah, but it soon became a little tense when Sarah was surprised over Zoom.
"Tom wanted to surprise you this morning on a Zoom call obviously with your favourite radio show presenters," Amanda told Sarah, who responded: "Yeah, he's… erm, ahhh I'm not a surprise person if I'm honest!"
Things didn't get any better as Sarah continued: "See Tom has a habit of doing stuff like this, he tends to do surprises but they're more for his benefit than mine and I have a feeling that Amanda Holden might have something to do with this one.
"We had an argument once and broke up because he's actually obsessed with Amanda Holden, and I was just done. And I was just like 'aw typical that you do a surprise and it's about something that I don't want to have anything to do with.' It's just an ongoing issue."
There was some bickering between Tom and Sarah, so a shocked Amanda said that she's old enough to be his mum!
Tom explained that he'd liked one of Amanda's photos on Instagram and Sarah got a bit annoyed that he was liking too many of them.
Amanda became more embarrassed when Sarah complained about being brought onto Zoom in her "morning stuff" while "she's looking fab"!
The prank continued turning up Amanda's squirming when Sarah said she didn't want to meet with someone on Tom's laminate list and it turned out that Amanda and Tom had met a couple of times previously.
Jamie, who had remained silent through the whole conversation, interjected by asking Tom if he had something he wanted to say? Tom replied: "It's all spoiled now, isn't it?"
That was it for Sarah, who motioned that she was leaving and said: "I'll just leave you to say bye to your little girlfriend."
Jamie quickly said: "Just before you go – Tom! Tom…" who then gave the game away by saying: "I want to say one thing, and one thing only Amanda… APRIL FOOLS!"
A thoroughly pranked but obviously relieved Amanda blurted out: "Oh you f… Is this live?! Oh for f…. Oh my god I felt so sick doing that!
"You absolute ******* Oh my god!
"Oh my god! Sarah I was dying for you, I was going 'don't be stupid, I'm old, this is so awful!' Oh my god, thank god! Thank god!"
OMG did that just happen ?@AmandaHolden ruins couples proposal in ultimate #AprilFools prank ? @JamieTheakston pic.twitter.com/9mZFfgZRAH

— Heart (@thisisheart) April 1, 2021
Tune in to Heart Breakfast with Jamie Theakston and Amanda Holden weekdays from 06:30 – 10:00.