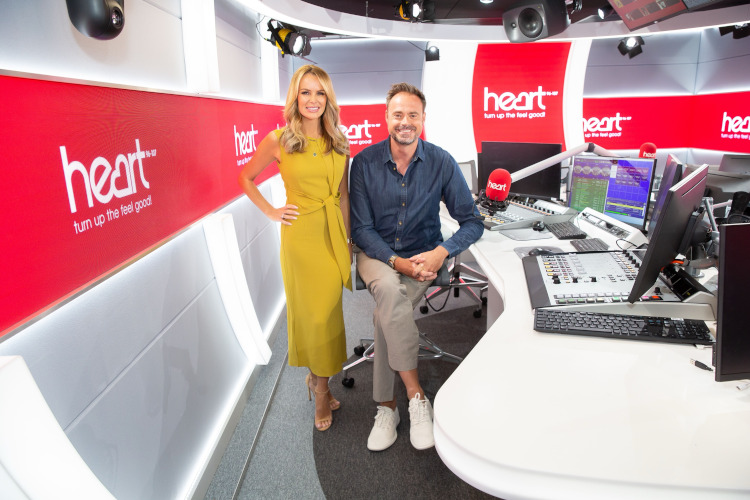 On this morning's Heart Breakfast, Jamie Theakston and Amanda Holden discussed the big news of the day that HRH The Duke and Duchess of Sussex will be taking a step back as senior members of the Royal Family.
The news, which broke last night (Wednesday), came as something as a surprise to many and it has since emerged that it seems the Queen wasn't informed before the announcement was made.
Amanda showed full support for Harry and Megan, saying that she doesn't know what all the fuss is about. She pointed out that just before Christmas the Royal Family announced they were going to slim down and just use the main players.
"I would imagine that Harry and Meghan don't consider themselves main players," Amanda said, adding: "All they are doing is stepping back, earning their own money and still going to represent us brilliantly abroad.
"I mean I really like them, I hate the fact that they get all this kind of stuff in the press and I think, I suspect that she maybe is, or wants another baby and I'm thinking she doesn't want to go through another year of everyone kind of slagging her off, so yeah I'm all for it. I want them to stay together, I want them to be happy.
"It's a shame because I feel that Harry is the more fun down to earth one so we'll kind of lose a bit of sparkle I think but I think we'll be able to watch from a distance. I think they're gonna storm it."
Jamie then quipped: "Lose a bit of sparkle, get a bit of Markle!"
He said that he'd met her once and that he thinks she's a lovely lady. Jamie also revealed that she listens to the show so has to tread carefully and added: "Meghan and Harry, we send our very best to you. I think they're living their own lives in a way that suits them and who can blame them."
Amanda agreed, saying: "Yeah. And they're going to make their own money it's brilliant!"
The decision taken by Harry and Megan to step back from their royal duties, spending their time living between the UK and America to raise their son Archie has divided opinion.
.@AmandaHolden fully supports Harry and #Meghan's decision to take a step back from the Royal Family and earn their own money.

What do you think about The Duke and Duchess of Sussex's plans to split their lives between the UK and America?

?Listen Live – https://t.co/eMuzMz9v3Y pic.twitter.com/cIDPipaGU0

— Heart (@thisisheart) January 9, 2020