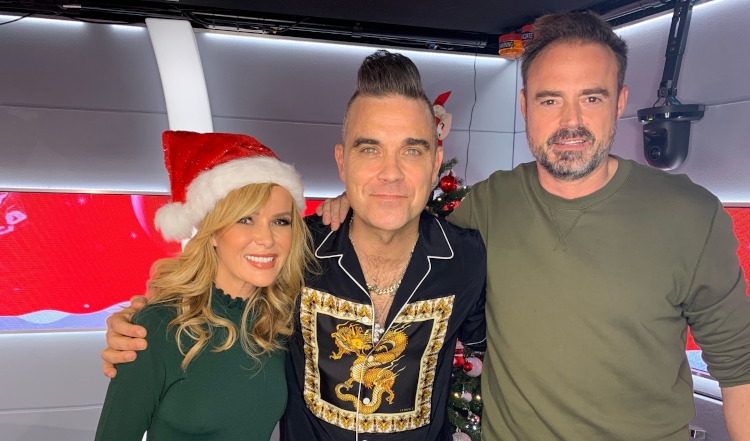 Robbie Williams was in a festive mood this morning when he appeared on Heart Breakfast talking about his new Christmas album and why Britney Spears said no to recording a duet for it.
He told Jamie and Amanda that the album has been in the making for three years and was recorded in June and July.
As a result, he admitted to them: "I've been feeling festive for a very long time and my life is much better for it."
When Jamie asked Robbie, which is his favourite Christmas song, the story about Britney was revealed. Robbie answered: "My go to is Fairy Tale of New York but I think you may have played that.
"But listen, check this out, I asked Britney Spears to duet with me on Fairy Tale of New York. She said no. What a lovely story."
Jamie enquired: "What did you do? Did you ring her, or did she just not text you back, how did that work?"
"She's not working right now," Robbie replied, adding: "She's having a rest. Maybe it'll happen in the future."
He then said to Amanda: "We're good Amanda," after she suggested that she should record it with him instead!
That awkward moment when @robbiewilliams asked @britneyspears to duet with him on his new #Christmas album and she said no ☹️???

?Listen Live – https://t.co/eMuzMz9v3Y – @AmandaHolden @JamieTheakston pic.twitter.com/qlNLjEyN1r

— Heart (@thisisheart) November 22, 2019
Bringing the conversation closer to home, Jamie asked Robbie's opinion of the new Heart Breakfast show, adding that he loved doing it, although he joked: "It would probably sound better if it was like Rob and Amanda."
Robbie answered: "You've been here a long time you've had a great run, it's been lovely for everybody and you've done a great job!"