Weekday schedule changes at BBC Radio 1Xtra include new presenter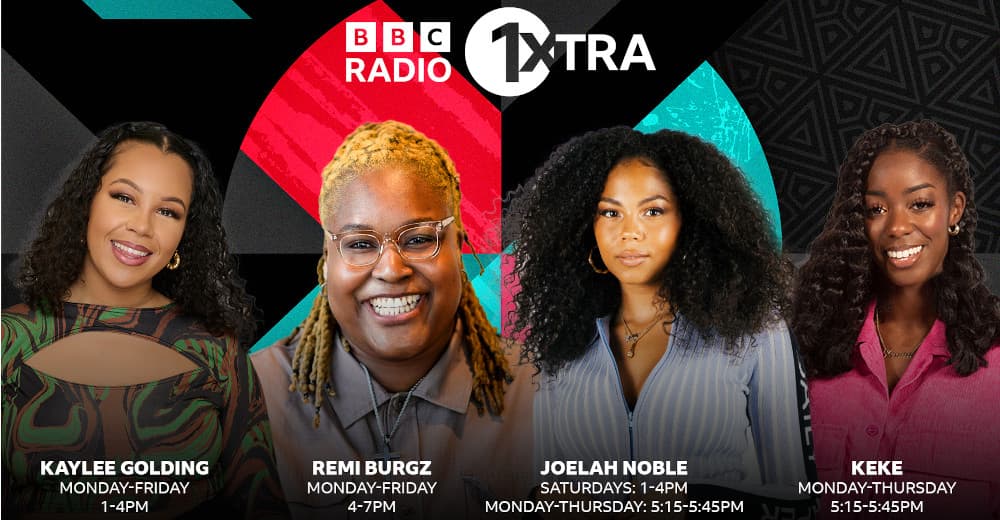 Award winning DJ Kaylee Golding is joining the weekday line-up at 1Xtra as part of changes to its schedule.
Kaylee will host Monday-Fridays 13:00-16:00, broadcasting from The Mailbox in Birmingham. It will be the first weekday show to come from outside of London.
Kaylee says: "I am super excited to be joining the BBC 1Xtra family! I've been listening to 1Xtra my whole life, so to be presenting such an important daytime show on the station is an honour.
"I can't wait to start the show and provide the happiness and good music we all need. To make it even better, I get to do the show from my hometown Birmingham. Birmingham deserves this, and I can't wait to bring some brummy flavour to 1Xtra!"
In other weekday schedule changes, Remi Burgz will move to Drivetime Monday-Friday 16:00-19:00. Having joined 1Xtra in 2021, Remi began presenting the Weekend Breakfast Show before becoming the host of a weekday show just a year later. Remi takes over from Reece Parkinson who is stepping down to focus on his new projects.
Remi Burgz said: "Wow! I am so grateful for this opportunity; I can't believe I've been trusted to continue this amazing slot.
"My friends don't even trust me to drive them around town but now I'm keeping people company through drive time skrr skrr beep beep. Reece Parkinson has left big shoes to fill but I'm ready for the ride!"
Reece Parkinson said: "I'm incredibly thankful for the life-changing experience I've had at 1Xtra – fulfilling my intention of bringing positivity and light to the audience. Now I'm so excited to go and create more life-changing experiences at scale in my next project".
Broadcaster, television presenter and well-known media personality Joelah Noble will take over from Lady Leshurr on Saturdays 13:00-16:00. 1Xtra's Throwback Party will air Monday to Thursday during drive-time, with the award-winning presenters Joelah and Keke playing hip-hop and R&B tracks from the 90s, 00s and 10s. A longer version of their show will then be available on BBC Sounds.
Joelah Noble said: "I'm so excited to finally share I've got my very own 1Xtra show every Saturday! I Radio is one of my favourite things ever so to have my own slot is a dream.
"I won't give too much away but the listeners better be ready for big things! Plus, I'm bringing 1Xtra's Throwback Party back with KeKe into the live schedule four days a week. We can't wait to show everyone what we've got in store. Expect big laughs and of course the best throwback bangers!"
Faron McKenzie, Head of Station, BBC 1Xtra says: "BBC 1Xtra has ambitious plans for 2023 and this schedule shake up is just the start. We've said it before – 1Xtra are committed to increasing investment and supporting broadcasting talent across the UK.
"As a Birmingham native myself, I'm so proud to be delivering on that promise and bringing 1Xtra to such an amazing and diverse city. I'm excited to see Kaylee represent, connect with new audiences, and inject her fun, Brummy energy into 1Xtra afternoons.
"Remi has also forged an incredible relationship with our listeners in such a short space of time – proving her status as a broadcasting superstar. I know she's going to deliver that huge energy she's known for into the drive-time slot. Reece will be missed by all at the network and we wish him the best of luck in his exciting new projects.
"Topping it off, Joelah is ready to hit the ground running on her new show and her positive, warm and friendly vibes make her perfect for Saturday afternoons. She is also a highly experienced broadcaster and her work across TV, radio and the wider media industry speaks for itself".