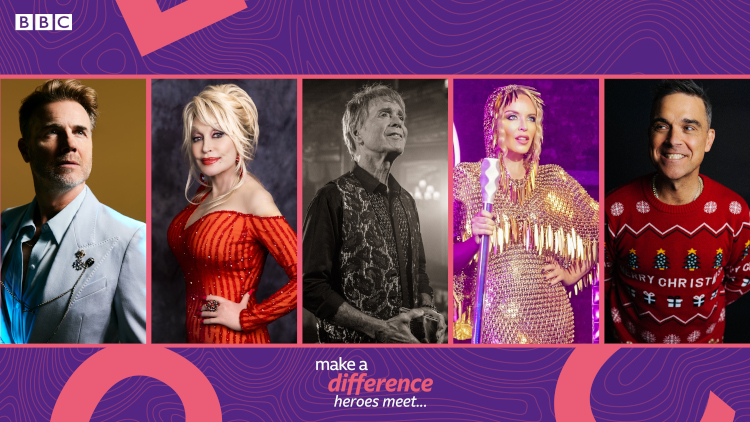 Big name artists Sir Cliff Richard, Dolly Parton, Robbie Williams, Kylie Minogue and Gary Barlow will join Owain Wyn Evans for a special week of programmes on local BBC radio this Christmas.
In the feel-good series the BBC's 'drumming weatherman' Owain will introduce the artists to some of England's Make a Difference heroes of lockdown 2020.
Make a Difference was launched on all 39 BBC local stations across England back in March for people offering help and those needing support.
Heroes include people making meals for the vulnerable, sharing provisions and generally keeping each other going during the lockdown. Now, some of them will get to meet their own heroes.
Gary speaks to fan Vicky Murphy from Glossop who set up a scheme for nursery children to write letters for elderly people in social isolation, he says: "It's a great time for us to all see our worth. The great thing about this time is that people are clever and people will get us out of this.
"What a brill idea, when you came on I thought this personality is going to lead to something great."
Sir Cliff tells Owain: "It's nice to be played on the radio. I've always complained that you need to be under 35 to get played on the radio but in the last few years all of you have been very kind to me."
Talking about his own charity work he said: "I always find it so comforting to know that I could do something. When you think of any individual – you, me anybody – what we do is so finite and tiny, but the bucket will only get full after all those tiny drops that we are fill it. The more people we can get to help others the better."
He added: "I will keep bringing the music, you keep making a difference"
The special programmes, hosted by Owain, will air at 9am each day from Monday 28 December to Friday 1 January.
Owain is a weather presenter for BBC One North West, he's also a semi-professional drummer. Last April he made a video of himself drumming to the BBC News theme which went viral across the world, receiving millions of views.
He's no stranger to radio either, having presented programmes on a number of stations including BBC Radio York, co-presenting with Carol Vorderman on BBC Radio Wales and with Helen Skelton on BBC Radio 5 Live.