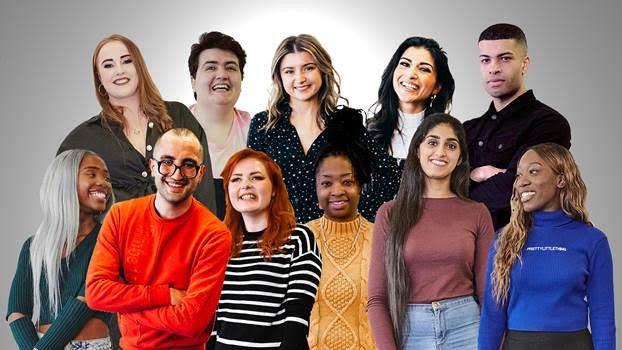 You may remember we reported back in October that BBC Radio 1 was looking to offer a once in a lifetime opportunity to new talent to host shows over Christmas, well today they've been named.
Among them are Jessica Maciel, a tattoo studio owner from Dublin, Dave Holt, a shop manager from Birkenhead, and Stuart Millar, a PhD student and research engineer from Belfast.
Joining them is 21 year-old Gregor Davidson from Aberdeen, who will present on Radio 1 on Boxing Day, marking exactly one year to the day since he hosted his first ever radio show; YouTuber and activist Lucy Edwards, who will become Radio 1's first blind presenter; and presenter and podcaster Jacob Edward who will become the first non-binary person to host a show on the station.
Laurie Charlesworth will become the first woman to host Radio 1's Drum & Bass Show, while sister duo Nakia and Fabienne Oliver will co-present a late night dance show in another first for the station.
Henrie Kwushue from London, Laura Crockett from Northamptonshire and Summaya Mughal from Nottingham will each take a turn hosting the breakfast show. Summaya, who also presents on BBC Radio Leicester, is one of several BBC local radio presenters taking part alongside Joel Mitchell (BBC Radio Leeds) and Sian Eleri (BBC Radio Cymru).
Jessica says: "To be getting an opportunity to get behind a BBC Radio 1 mic feels like a dream and I can't wait to have the craic with the team and listeners!"
Dave says: "Madness, I still don't think it has truly sunk in!"
Stuart says: "In terms of dance music radio, I think BBC Radio 1 is the gold standard, and has been for many years – often copied but never equalled. Pete Tong's show is an institution in its own right, so I feel very lucky and grateful to be asked to present it. I've got some MBE-sized boots to fill!"
Lucy says: "I'm so excited to be the first ever blind Radio 1 presenter and I'm looking forward to being a part of the Christmas schedule. Let's make some fab radio!"
Jacob says: "It feels INCREDIBLE, keeping this a secret has been so hard! This is the dream! I'm just so EXCITED!!!"
Henrie says: "It's amazing to be a part of the Radio 1 Christmas schedule because I've always wanted to hear a voice that sounded like mine on the station, and now I can… because it's my own voice!"
Laura says: "Being part of the Christmas schedule is a dream come true, I just hope I'm still on the good list after they let me loose at Radio 1!"
Summaya says: "I can't quite believe it's happened to be honest, I feel ridiculously blessed, immensely thankful and super excited (whilst secretly praying I don't press the wrong button!)"
Radio 1 received 1,110 entries from would-be presenters and has managed to get it down to 35 who will debut on the station over the festive period.
The list of the 35 winners, in alphabetical order:
Ailbhe Máiréad, 28, from London (Radio 1 Rock Show)
Aine Cronin-McCartney, 26, from Belfast (BBC Music Introducing on Radio 1)
Cal Carthy, 24, from Hertfordshire (Radio 1's Future Sounds)
Carmen London, 31, from Tooting (1Xtra Takeover)
Connor Coates, 26, from Belfast (Radio 1's Dance Party)
Dave Holt, 33, from Birkenhead (Late morning slot)
DJ Astonish, 26, from Derby (1Xtra Rap Show)
DJ Davda, 20, from London (Radio 1's Soundsystem)
Fat Brestovca, 26, from Scotland & Kathryn Wilson, 30, from Belfast (Radio 1's Life Hacks)
Fee Mak, 22, from London (Drivetime)
Gabriel Green, 23, from Cornwall & Joe Pilbrow, 21, from Oxfordshire (Early Breakfast)
Gregor Davidson, 21, from Aberdeen (Early afternoon slot)
Henrie Kwushue, 24, from London (Breakfast)
Holly Palmer, 22, from London & Rhys Gunter, 21, from Weymouth (Early Breakfast)
Jacob Edward, 21, from Birmingham (Late morning slot)
Jade Worsley, 29, based in Dubai (Dance Anthems)
Jessica Maciel, 29, from Dublin (Early afternoon slot)
Joel Mitchell & Hannah Sackville-Bryant from Leeds, both 21 (Radio 1's Official Chart)
Katie Owen, age 22, from South Wales (Radio 1's Indie Show)
Kaylee Golding, 21, from Birmingham (Early Breakfast)
Laura Crockett, 29, from Northamptonshire (Breakfast)
Laurie Charlesworth, 26, from Leicester (Radio 1's Drum & Bass Show)
Lucy Edwards, 23, from Birmingham (Late morning slot)
Mayce Al Hroub, 23, from Cambridge (Late evening slot)
Nakia Oliver, 28, & Fabienne Oliver, 25, both from Manchester (Radio 1 Dance)
Priya Matharu, 21, from Birmingham (Radio 1's Asian Beats)
Sian Eleri, 25, from North Wales (Radio 1's Chillest Show)
Stuart Millar, 37, from Belfast (Radio 1 Dance)
Summaya Mughal, 25, from Nottingham (Breakfast)
Tatum McGreal, 24, from Stockport (Early Breakfast)
💥 ANNOUNCEMENT 💥

We're so excited to introduce 35 brand new guest presenters who'll be taking over the Radio 1 airwaves between Boxing Day and New Year's Eve 😍

Press release with all the details ➡️ https://t.co/PFxGDaeLUf pic.twitter.com/MWocOofDKa

— BBC Radio 1, 1Xtra & Asian Network Press Office (@BBCRadio1PR) December 4, 2019