Newsbeat's Calum Leslie previews Greg James short story live on air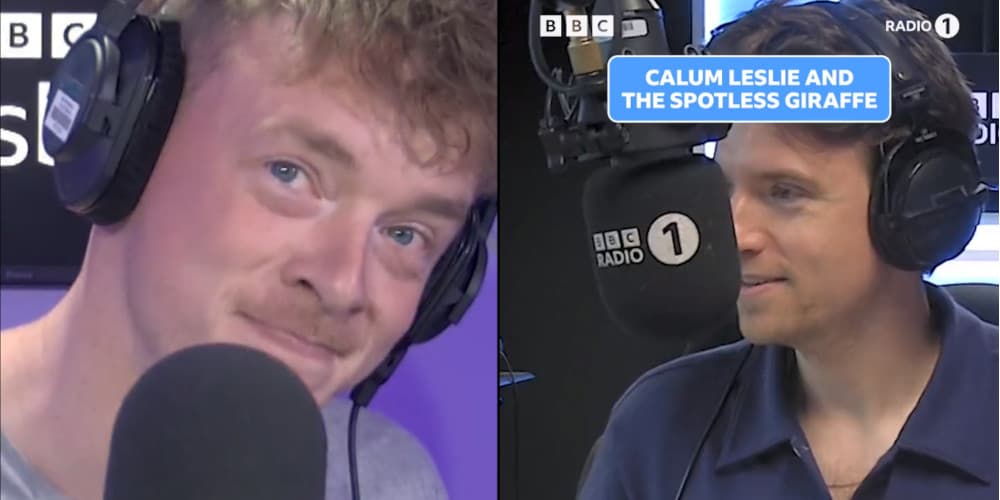 After Radio 1 Newsbeat's Calum Leslie read the story of the giraffe born with no spots during the Greg James Breakfast show, it gave Greg an idea!
The baby giraffe was born at a zoo in the US and its thought to be the only spotless one in the world.
When Calum had finished reading it, Greg told him he loved the story so much it has "kids book" written all over it.
Greg, who has written a number of children's books, said: "I know a kid's book when I see one and that is a great idea."
He went on to say he's just putting the finishing touches to a short story called The Giraffe Without Any Spots and asked if Calum would do an audition reading the story because he has such a fantastic and kid friendly voice – Calum agreed to do it!
Introducing Calum, Greg said: "Let's pretend it's CBBC… coming up next, it's the bedtime story. You can hear that story in the video below.
a giraffe with no spots has been born in a tennessee zoo 🦒 @gregjames and @calumsleslie felt this was a prime opportunity for a wholesome bedtime story… 📖 pic.twitter.com/HKWFGmo8XK

— BBC Radio 1 (@BBCR1) August 22, 2023