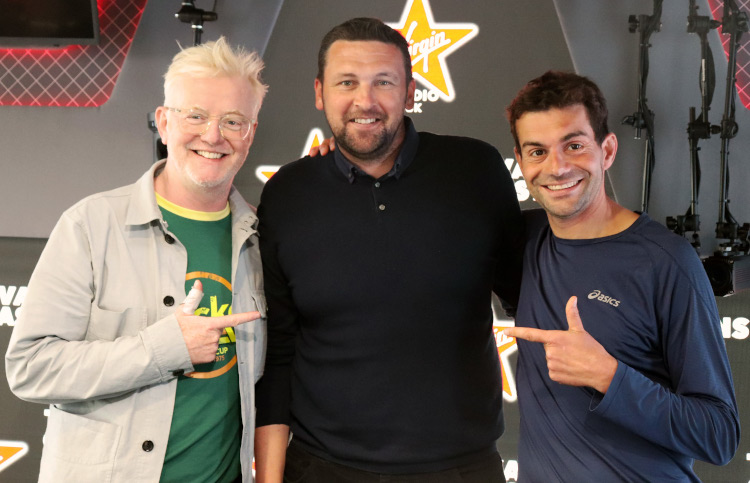 There was a lot of talk about cricket this morning, but not everyone was celebrating England's win as Chris Evans found out on his Virgin Radio breakfast show.
New Zealand international cricketer Martin Guptill's wife Laura McGoldrick spoke exclusively to Chris about New Zealand's World Cup loss to England and following her husband's efforts in the super over.
Speaking about what she was doing during the super over, Laura said: "Just vomiting in the corner is probably what I'm doing. It was pretty scary.
"I was just holding on very tightly to my child. You have just got to ride the wave and soak it up, when you are heavily invested in it like I was, we were all holding our heads in despair.
"We had to put our heads up because we will never ever get this again, so that's what we had to do. In cricket anything can happen, I had my daughter with me who is 21 months old I'm surprised she didn't chip a tooth I jumped so much."
Although disappointed at the loss, she praised England for playing well, saying: "I think the most important thing is watching how the teams win and lose. England were great winners on the day and New Zealand were good losers – children there will remember that for the rest of their lives."
There were also some good words from her about the Black Caps: "Our boys they left it all out there – all you can ask for is you give it your all," Laura said, adding: "They will be ok and the Black Caps will only get better because of this – I'm incredibly proud and to have been there to be a small part of it in the background."
talkSPORT's Steve Harmison was also a guest on the show and he told Chris: "I don't know when apart from the very last ball when I thought England would win it.
"It was only when it went to the super over to think we have got a chance here to win the World Cup. It was 3 and a half hours of England players thinking I'm not sure we are going to get over the line here.
"England won by hitting more sixes because the 4 count was exactly the same. Ben Stokes hit two sixes in his innings and that won it for England."
Steve also revealed why he was feeling nervous during the match, he told Chris: "I was more nervous because of the close connection I've got with these kids – Stokes, Plunkett and Mark Wood came from Durham – I was more nervous because of my connections with them.
"I don't think Stokes has realised what he's just achieved. I imagine Stokes will be along the same lines as Freddie in '05 once they get to Downing Street for tea."
The win is bound to increase the popularity of cricket and make more people want to enter the sport, Steve said to Chris: "I want kids now at the ages of 9,10,11 and 12 to not aspire to be footballers but go to their local cricket club to aspire to be Ben Stokes, Joe Root and Johnny Bairstow."
The Chris Evans Virgin Radio Breakfast show with Sky can be heard weekdays from 6.30am.