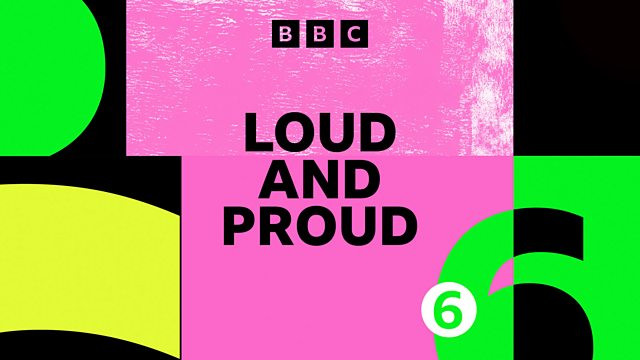 American actor, singer and author Billy Porter is taking part in BBC Radio 6 Music's Loud and Proud season, which will celebrate LGBTQ+ voices throughout June with a range of special shows, guest presenters and mixes.
These special programmes are being aired as the BBC commemorates 50 years of Pride with collection of LGBTQ+ titles across TV and radio.
From tomorrow, 2 June 5am-7pm, 6 Music's Loud and Proud season will see presenters playing tracks selected by some of the stations favourite LGBTQ+ artists, including Big Freedia, Desire Marea, Lava La Rue, Lucy Dacus, Lynks, Marika Hackman, Mykki Blanco, Planningtorock and Soak. All these artists will introduce their chosen track and celebrate the LGBTQ+ musicians behind the songs they have picked, explaining why these musicians have inspired or influenced them.
More LGBTQ+ artists will be played across the day and The Loud and Proud Playlist – a one-hour programme, featuring all tracks and their introductory voice recordings that will be broadcast across the day today, will be available on BBC Sounds.
On Friday 3 June, each daytime show (5am-7pm) will end with a 30-minute mix from an LGBTQ+ artist. Mixes across the day will come from Skunk Anansie's Skin (7am), dance music project Hercules & Love Affair (10am), producer and DJ India Jordan (12.30pm), musician and songwriter Ezra Furman (3.30pm) and Bristol-based artist, Grove (6.30pm).
Then, from 7pm-12am on Friday, 6 Music will broadcast five hour-long programmes, hosted by LGBTQ+ artists.
From 7pm-8pm, American actor, singer and author Billy Porter shares an hour of his favourite party music. He'll be playing tracks from Donna Summer, Pete Shelley, Honey Dijon, Hercules and Love Affair, Blondie, Propellerheads and many more.
Billy says: "I am thrilled to be a part of this year's 6 Music Loud and Proud season. I've put together a fun little mix for y'all that spans a few different vibes and times in our history. I'm sure it's gonna get you in the spirit and ready to march and party.
"And kids remember to learn your history. The first LGBTQ march to happen in the UK was all the way back in 1972 in London… so it's the 50th anniversary this year of the UK LGBTQ civil rights movement. Stay proud and stay LOUD and let's keep moving that history and spirit-forward together this pride season."
Later, drag-pop artist Lynks and Erasure's Andy Bell (8pm-9pm), Charity Kase of RuPaul's Drag Race UK (9pm-10pm), American rapper Cakes Da Killa (10pm-11pm) and Glasgow performer and DJ TAAHLIAH (11pm-12am) play some of their favourite party tracks.
From 1pm-2pm on Sunday 12 June, Deep Dive Into Queer Country is a documentary exploring how the country genre has a long-standing, though little-known, queer history.
Journeying from the past to the present day, the programme will shine a light on the scene's radical pioneers, as well as the recent explosion of contemporary LGBTQ+ country artists that are keeping the genre alive.
Hosted by writer, pop music professor and queer country expert, Dr. Shana Goldin-Perschbacher, the programme will include an hour of music and speech that reflects on how country music connects with the queer experience, the challenges faced by LGBTQ+ artists in the industry, the rise in diversity and representation as well as music's unifying and storytelling power. The documentary will feature interviews and archive from Patrick Haggerty of Lavendar Country. k.d. lang, Lil Nas X, Amythyst Kiah, Grace Petrie, Tommy Atkins and Rachel Cholst.
Other Loud and Proud highlights coming up across June include: a brand new series of 6 Music's Artist In Residence from American musician Perfume Genius (beginning Wednesday 8 June, 12am-1am); special shows from Sacred Paws (Monday 13 – Thursday 16 June, 7pm-9pm) and Kae Tempest (Monday 13 – Thursday 16 June, 9pm-12am) and 6 Music Artist Collections, celebrating Janelle Monae (Tuesday 31 May, 12am-5am), Skunk Anansie (Tuesday 7 June, 12am-5am), St. Vincent (Tuesday 14 June, 12am-5am), Pet Shop Boys (Tuesday 21 June, 12am-5am) and Courtney Barnett (Tuesday 28 June, 12am-5am).
As previously reported, BBC Radio 4 will broadcast Ziggy Stardust at 50 looking at how David Bowie's creation of Ziggy Stardust effected his career and allowed him to emerge as a pop prophet, gay rights champion, and cultural icon.
And, in Fifty Years of Pride, which marks fifty years since the first Gay Pride march in London, Damian Barr looks at what Pride represented at the time, its metamorphosis over time and what it has become for today's campaigners.
For Radio 4 and BBC Sounds, singer Sam Smith presents A Positive Life: HIV from Terrence Higgins to Today. This eight-part series, commissioned by BBC Wales, uncovers the little-known story of Terry Higgins' life and examines how life with HIV has drastically changed since the AIDS crisis of the 80s and 90s – meeting people who helped fight for treatments that changed the face of HIV, as well as those who are now working to end stigma for all people living with HIV.
BBC Sounds also features Bi-People, four special episodes from hosts of BBC Sounds podcast Bad People. Dr Julia Shaw and Sofie Hagen, exploring bi-sexuality. Julia is the author of a book 'bi', covering the hidden culture, history and science of bi-sexuality, and both presenters are openly bi-sexual.
In addition, Building Queertopia, a series that launched last June with 37 episodes now available on BBC Sounds, where Chelcee Grimes and Shane Jenek (Courtney Act) build their perfect queer utopia.
Chelcee and Shane are joined by a special guest for each episode, who contributes their own ideals to create their imagined inclusive world. No topic is off limits, as the podcast provides a space for guests to explore everything from politics, music and fashion to social etiquette when considering their perfect society for everyone to be their true selves. Everyone is welcome in Queertopia.