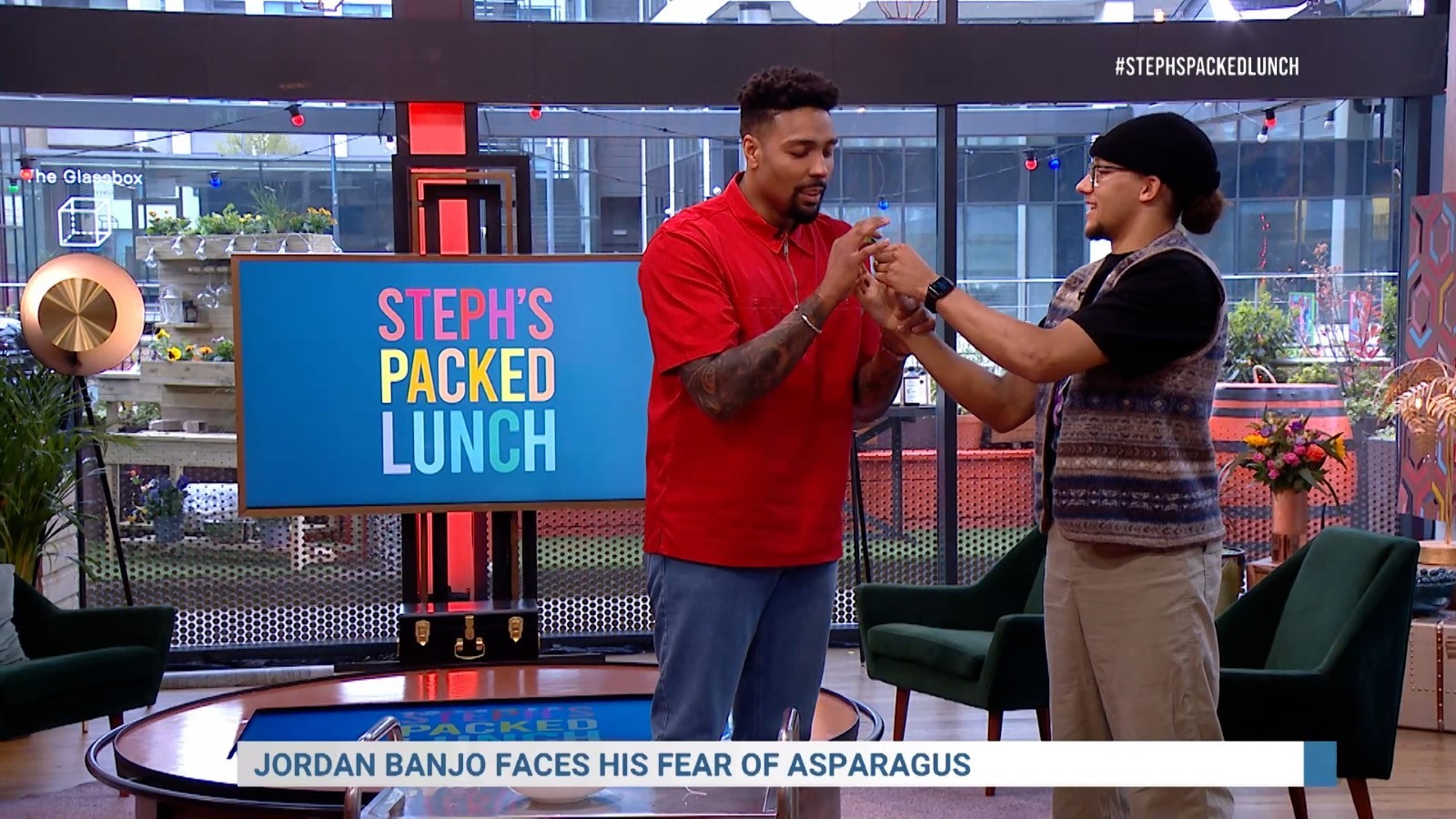 KISS Breakfast presenter Jordan was forced to face his weird fear live on TV this week as presenter Steph McGovern and Kiss breakfast co-host Perri presented him with a plateful of Asparagus.
Unable to keep his panic at bay Jordan said live on Steph's Packed Lunch that on seeing the vegetable: "My heart just starts beating really fast, I know it is silly."
As the asparagus was bought onto the set Jordan was visibly scared as Perri relished in the opportunity of making him jump by waving a stalk in his face. The KISS presenter was only able to take a tiny bite before screaming and running off the stage as Steph and Perri had some fun throwing the vegetable at him.
Jordan was facing his fear as part of KISS Breakfast's game of 'Truth or Dare' which will see Jordan and Perri take on a different task across ten cities in the UK as the pair take their breakfast show on the road while they are touring with Diversity.
In each city, listeners will have the chance to come up with some challenges for the presenters before the best one is chosen for them to take on.
The game kicked off on Thursday morning's Breakfast Show when long time listener Amy from Kingston set a truth for Perri, where he revealed his worst date ever was when he travelled almost 300 miles from Essex to Newcastle to be stood up by a girl. Not only was he stood up, but it was his first ever date and he'd planned a trip to watch Saturday Night Takeaway on tour, pulling out all the stops!
Jordan was then tasked by Amy's 10-year-old daughter Isla to face his ultimate fear – a plate of Asparagus.
Well he kinda conquered his fear of asparagus! 😂 #StephsPackedLunch @Diversity_Tweet @KissFMUK pic.twitter.com/Ri3LPFM1pT

— Steph's Packed Lunch (@PackedLunchC4) April 28, 2022
You can see Jordan's full reaction to the dare on the Kiss Instagram