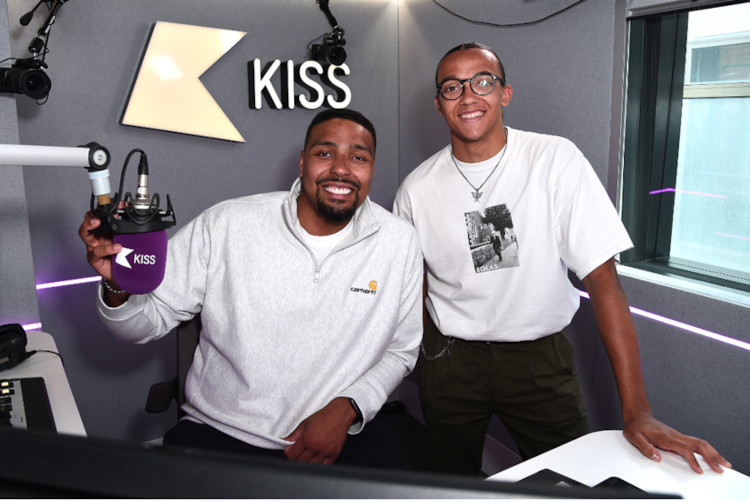 KISS Breakfast with Jordan and Perri launched this morning (3 August) and there were a few revelations live on air.
One of them was the news that long-time singleton Perri Kiely, who has previously appeared on TV show Celebs Go Dating, now has a girlfriend! He revealed the news, saying: "I feel energised! it's off my chest! It's taken me 24 years and a global pandemic…. But I got there in the end."
While he didn't reveal too much about his new mystery lady, the massive Harry Potter fan did share that she would 'definitely' be in Gryffindor house!
Ahead of the first show launching, Jordan Banjo's fiancé Naomi Court made a big fuss of the pair by surprising them at home with an amazing set-up of giant KISS letters, balloons plus a huge cake.
Taking to Instagram on Sunday, the mum of two shared: "I know I'm a little bit extra but I just wanted to wish these 2 a massive GOOD LUCK for Monday when they start their brand new @kissfmuk breakfast show! This is a huge achievement and I'm so proud of them both! They've worked so incredibly hard over the last year and I can't believe they are taking over mornings on KISS! Smash it you 2! You both deserve every success."
On air Perri joked that when he first saw the display he said: "I think she wants us to kiss…". And while it blew both Jordan and Perri away, Jordan revealed that it was a slightly loaded gesture from fiancé Naomi, who squeezed his hand afterwards and said: "And I didn't get a Mother's Day card."
The pair who said they stayed in a hotel near the KISS studios the previous night as they were worried that they wouldn't make it in time for their first show, decided to answer some of the most googled questioned about themselves in a somewhat risky first on-air segment.
Perri put to Jordan "Has Jordan Banjo had his teeth done?", to which Jordan admitted "just the top ones!". Then answering the question to "How much is Jordan Nanjo worth?" …according to the internet it's a whopping £56 million. But the Diversity star joked …. "If I was worth £56 million trust me I would have got the bottom ones done as well!"
Jordan's brother and Diversity choreographer Ashley Banjo was the first guest on the new Breakfast show, calling in to wish them both luck. He shared: "I want to do what's right and say thank you, thank you to the British public and to KISS FM. Thank you for finally taking them of my hands for at least a small portion of the day.. they can do the rest of the country's head in."
And we are LIVE @Jordan_Banjo @perrikiely 🔥🎧#KISSBreakfast let's goooooo!!!

🚨🚨🚨 pic.twitter.com/EZ9iDtTcpP

— KISS FM UK (@KissFMUK) August 3, 2020
Listen to KISS Breakfast with Jordan and Perri every weekday from 6am-10am.