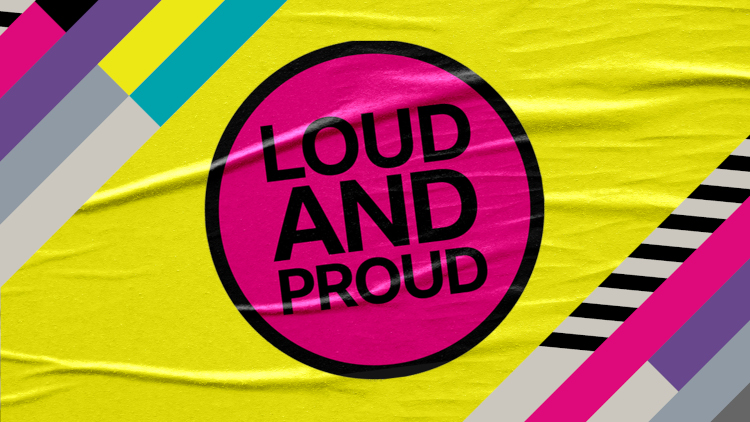 6 Music is going to celebrate LGBTQ+ voices with guest presenters and mixes in a season called Loud and Proud from Monday 31 May to Sunday 20 June.
On Sunday 20 June (1pm-2pm), leading authority of Ballroom in the UK, Jay Jay Revlon will host A Deep Dive Into Ballroom – a documentary telling the story of Ballroom culture, from the past to the present day. There will be contributions DJ from MikeQ – the world's number one Ballroom DJ, Vinii Revlon – father of the House of Revlon in Paris and Jada Revlon – legend on the US Ballroom scene.
Jay Jay will explore the musical anthems that defined the scene and the new generation of producers who are bringing Ballroom into the now, using samples of classic vogue tracks in their music. Listeners will also hear from dancers and artists about what Ballroom means to them.
Jay Jay Revlon says: "Follow me on a journey through the real history of Ballroom, talking to people like MikeQ and Jada Revlon from the U.S. and some more special guests. Follow me, your boy Jay Jay Revlon, on a journey and a deep dive into Ballroom."
Later the same day, Tom Robinson will present a special LGBTQ+ edition of Now Playing @6Music.
If you're up late, 6 Music's regular Artist Collection, which is broadcast on Tuesdays between 12am – 5am and is also available on BBC Sounds, will spotlight Courtney Barnett (1 June), St. Vincent (8 June), Kae Tempest (15 June), Janelle Monae (22 June) and Pet Shop Boys (29 June). The collections will feature a selection of archive performances, documentaries and playlists dedicated to these artists.
Guest presenters Ezra Furman and John Grant will host shows from Monday 7 to Thursday 10 June. Ezra will present each day from 7pm-9pm and John Grant from 9pm-midnight.
Ezra Furman says: "6 Music has been a huge supporter of my music over the years, so it's a true honor to be asked to present this series of shows as part of Loud and Proud, getting the chance to celebrate some of my favorite queer voices."
John Grant says: "I'm extremely excited 6 Music is letting me share some music with you very soon in celebration of Pride month. See you out there!"
Across Friday 4 June (5am-7pm), you'll hear from LGBTQ+ artists including Elkka, DJ Paulette, Rostam and Skunk Anansie's Skin, who will each nominate another artist who has inspired or influenced them. Presenters will then play a track from that artist.
This will be followed from 7pm-midnight with some of 6 Music's most loved LGBTQ+ musicians and DJs. These will be specially curated shows and mixes from Corin Tucker and Carrie Brownstein of American rock band Sleater-Kinney (7pm-9pm), Drag Race UK's Bimini (9pm-10pm), award winning DJ collective Queer House Party (10pm-11pm) and Venezuelan musician, composer and DJ, Arca (11pm-midnight).
Corin Tucker and Carrie Brownstein from Sleater-Kinney say: "Super pumped to be a part of the 6 music celebration of Pride! Music has always felt like a lifeline, this past year more so than ever."
Bimini says: "I'm very excited to have been asked to present a show for BBC Radio 6 Music. The station in an incredible platform for all styles of musical talent, and I've heard some of the best hidden gems on it!"
Harry Gay from Queer House Party says: "We've been beaming big queer vibes across the globe since we launched our online parties and we can't wait to bring some of them to 6 Music. Expect camp classics, queer anthems, rowdy bangers and audacious pop as we play some of our favourite tracks that have not kept our community partying throughout lockdown but helped us get through the past year."
Also, rapper, performance artist, poet and activist, Mykki Blanco takes the reins from St. Vincent as 6 Music's next Artist in Residence for six weeks. The Blessed Madonna, in her shows throughout June, will celebrate a multitude of LGBTQ+ musicians and DJs and their impact on dance music over the years.
Camilla Pia, Assistant Commissioner, BBC Radio 6 Music says: "I'm thrilled that 6 Music is supporting and shining a light on the LGBTQ+ community during the globally recognised month of Pride. Our Loud and Proud season will celebrate alternative voices from a variety of scenes and genres beyond the mainstream. It's going to be iconic!"