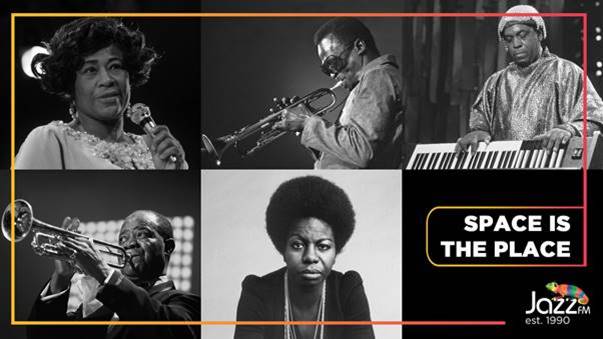 It's a first for Jazz FM, as the station is set to broadcast a new series of specially commissioned dramas in the run up to Christmas.
The new series is a part of the station's 30th anniversary season of programmes and based on five pivotal moments in the lives of legendary jazz artists.
Space Is The Place will broadcast each evening in Dinner Jazz with an omnibus edition on Saturday evenings. It will feature moments in the lives of Miles Davis, Nina Simone, Louis Armstrong and the man whose album and film 'Space Is The Place' lends its name to this series, Sun Ra.
The first series of stories are from the 'first lady of song' who launched Jazz FM in 1990 – Ella Fitzgerald. Each set of stories will feature the mysterious time travelling "Jazz Traveller" who will take the listener to key moments in the lives of these artists that make them the legends they became.
Jazz FM's Content Director Nick Pitts says "Whilst there have been so many challenges this last year, our 30th Anniversary celebrations have carried on and I'm so pleased that we are not only closing our year of special programmes with this, but once again we are able to break the mould and broadcast something so unique for our audience.
"We know that the listeners have a healthy interest in the history of the music and the superstars of jazz, and this programme is not just going to tell the stories but really bring them to life."
Recorded in a socially distanced environment, it stars Olivier Award nominated Kevin Harvey as the mysterious jazz Time Traveller, alongside a young diverse cast of professional actors
Written by Jeff Young and Fraser Ayres, produced by Sparklab Productions, and supported by the Audio Content Fund.
Space Is the Place will be 5 x 5minute 'Acts' (Monday-Friday at 8pm) and 1 x Omnibus (Saturday at 9pm):
w/c 23 November – ELLA FITZGERALD written by Jeff Young
w/c 30 November – LOUIS ARMSTRONG written by Fraser Ayres
w/c 7th December – MILES DAVIS written by Fraser Ayres
w/c 14th December – NINA SIMONE written by Jeff Young
w/c 21st December – SUN RA written by Frazer Ayres