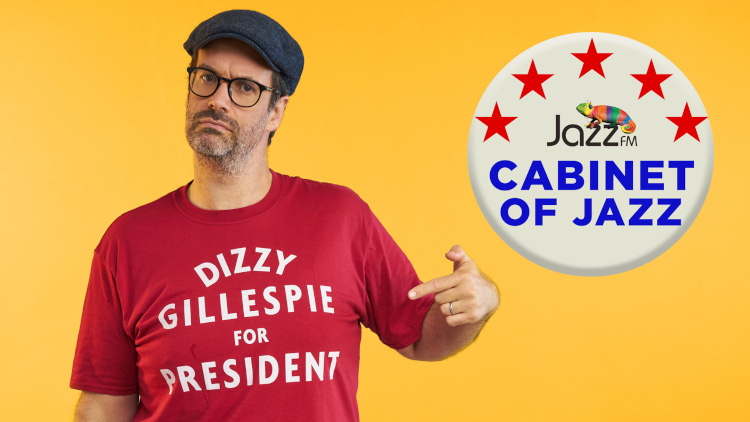 Jazz FM is to broadcast its first ever comedy series, "The Cabinet of Jazz" every Sunday evening from 17 October at 9pm, for the 10 weeks leading up to Christmas.
Based on the real-life run for president in 1964 by Grammy winning jazz titan Dizzy Gillespie, the series will see self-confessed jazz nerd and occasional Jazz FM host, comedian Marcus Brigstocke ask a famous jazz fan or musician to suggest their cabinet of jazz musicians as they become US President for the week.
Recorded in front of a live audience at Pizza Express Jazz Clubs in Soho and Holborn, the 60-minute programme will feature a diverse cross section of famous jazz-heads, from actors, comedians, broadcasters, journalists, and musicians themselves, kicking off with journalist Jay Rayner, plus comedians Isy Suttie and Stewart Lee, actor Clarke Peters and musicians Zara MacFarlane and Julian Joseph.
Marcus Brigstocke said of the series: "This is so much fun to make and to listen to. The guests/appointed Presidents have all surprised me; not only with their choices for Cabinet positions but with the well-argued and funny cases they make for each selection.
"The aim was always to give the listener a show that makes them laugh and then dash off to hear more music from these excellent artists and I really believe we've achieved that."
Jazz FM's Content Director Nick Pitts – who also devised the series – said: "This idea has been rattling around in my head for more than ten years and it is brilliant that we have been able to turn it into reality.
"Marcus is the perfect host and really allows him to bring his real inner geek to the surface and talk jazz with fellow nerds to much hilarity. The audiences have been brilliant, very interactive and it makes a great listen that adds to our arsenal of ever-growing creative ways to talk about jazz music."