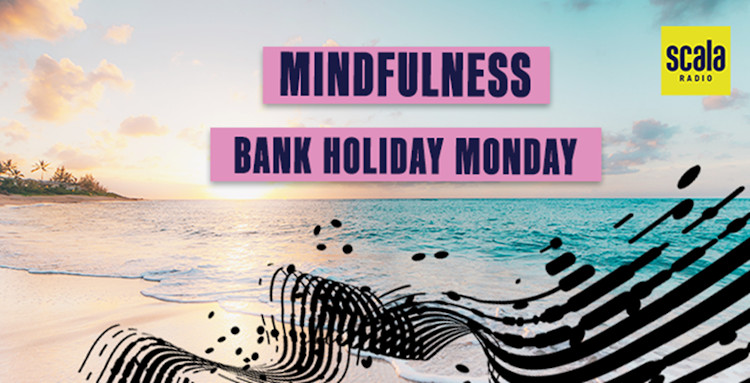 Scala Radio is dedicating this Bank Holiday Monday (25 May) to a day of mindfulness, following on from Mental Awareness Week.
From 10am until 10pm on Monday, each hour will focus on a different aspect of mindfulness, delving into the restorative qualities of classical music and offering informative and insightful tips for mental and physical wellbeing.
Simon Mayo will host the morning session, focusing on headspace and positive thinking. He'll be joined on the show by psychologist and Scala Radio presenter Emma Kenny to discuss ways of dealing with anxiety, especially during the period of self-isolation.
You'll be able to request music on the programme with birdsong interspersed between tracks – all recorded from listeners' own outdoor space!
Speaking about the event, Pyschologist and Scala Radio presenter Emma Kenny said: "Classical music can help create moments of calm and escapism in people's lives.
"At Scala Radio, we know this is needed now more than ever in these times of uncertainty due to Covid-19. Taking a moment to slow down and reflect can offer lots of mental health benefits, so we're inviting you to take a breath and join us on Bank Holiday Monday."
Mindfulness Monday schedule – Monday 25th May
Simon Mayo
10:00 – Headspace – Simon will be joined by psychologist and Scala Radio presenter Emma Kenny to discuss ways of dealing with anxiety, especially during the period of self-isolation.
11:00 – Birdsong – Simon will extend his daily Joybringer feature to an hour, interspersing his musical selections with birdsong recorded from listeners' gardens or outside their homes. Simon will be joined by a representative of the RSPB to offer advice on how to identify different bird calls
12:00 – Positive Thinking – Morecambe and Wise's 'Positive Thinking' song has been a mainstay on Simon's show since the self-isolation period began. This hour features listener requests for the pieces that put a spring in their step.
Sam Hughes
13:00 – Breathing – Sam, a keen yoga enthusiast, will explore breathing techniques. The hour includes a moment of complete calm, when Sam will be joined by breathing coach Rebecca Dennis, author of And Breathe, to switch off the music and encourage listeners to practise breathing techniques together.
14:00 – Music and Breathing – Exploring the connection between music and well-being, Sam turns to breathing in the world of music. She'll be joined by saxophonist Amy Dickson to find out more about her 'Take A Breath' programme, in which children learn about breathing exercises as well as classical music. This hour includes Sam's regular Mindfulness Music feature at 14:15, and today's selection will be a live performance by pianist Riopy of music from his new album Meditation 432.
15:00 – Singing – This hour celebrates the benefits of singing, especially singing in groups. Sam will speak to Harry Christophers and Charlotte Mobbs from The Sixteen, one of the world's most renowned choirs, to find out more, and to discover how choral ensembles have adjusted to the lockdown period.
Mark Forrest
16:00 – Gardening – During lockdown, Mark has been inviting listeners to send in photos of their green-fingered handiwork from gardens to window-boxes and house plants. In this hour, Mark speaks to psychiatrist and psychotherapist Sue Stuart-Smith, author of The Well Gardened Mind, which analyses the relationship between gardening and mental health.
17:00 – Fresh Air – Before the self-isolation period, Mark spoke to Nick Hallissey, Deputy Editor of Country Walking magazine, every Wednesday to find out about his suggestions for walks across the UK, and he was joined by Park Run Pete every Friday to find out about Park Runs taking place that weekend. In this hour, Mark catches up with both of them to discuss the benefits of spending time in the great outdoors – both walking and running – and to assess how we can make the most of fresh air during the current situation.
18:00 – Cookery – Mark extends his daily 'What You Having?' feature – when he invites listeners to tell him what they're having for dinner and he plays a piece of music to match – to explore the benefits of a healthy diet. He'll be joined by Scala Radio's Angellica Bell, winner of Celebrity Masterchef 2017 and author of Fantastic Eats! (and how to cook them) to find out about creating a positive cooking experience with the family.
Hannah Cox
19:00 – The Sound of Music – Hannah explores the proven positive effects of classical music on our emotional and mental wellbeing, and she'll be joined by practising NHS GP, broadcaster and campaigner for wellbeing Dr Radha to find out more.
20:00 – On Reflection – This hour offers moments of reflection from a range of Scala Radio presenters, authors and celebrities as they share the greatest pieces of life advice they've received, and the advice they would give to their younger selves.
21:00 – Sleep – Hannah speaks to sleep expert Matt Walker, international bestselling author of Why We Sleep, to find out simple tips to aid a good night's sleep. This hour includes Hannah's regular Mindfulness Music selection at 21:15, This hour includes Hannah's regular Mindfulness Music selection at 21:15, and this evening it's a special mix by electronic musician Liz Cirelli, incorporating healing frequencies called Solfeggio tones which can centre and ground the listener.