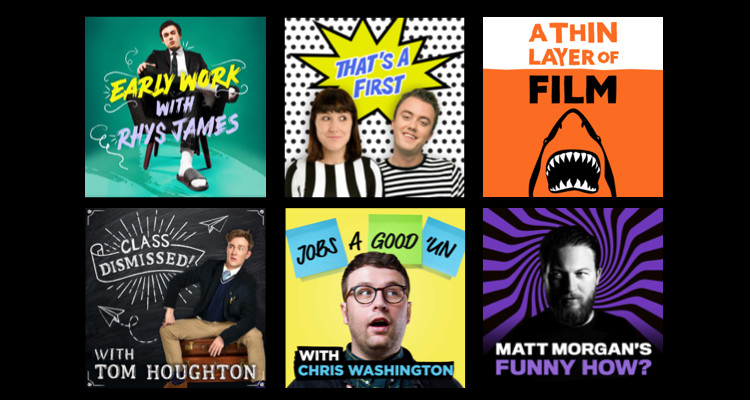 Radio X has come up with a way to beat the January blues by releasing a new slate of comedy podcasts fronted by some of the best comedy talent on the circuit including; Matt Morgan, Maisie Adam and Tom Lucy, Heidi Regan, Rhys James, Chris Washington and Tom Houghton.
The six new podcasts, under the banner 'Streaming with Laughter', will cover a whole range of topics from weird jobs to cringe-worthy stories of adolescence, with the first episode of each available to download from today (13 January).
Details are below:
Matt Morgan's Funny How?
After years as Russell Brand's writing partner and sometimes co-host to Gordon Smart on Radio X, BAFTA nominated comedy writer, Matt Morgan, has had just about enough of making other people look funny.
For his new solo podcast Matt Morgan's Funny How? he will be joined by a special guest as he attempts to get to the crux of what they find truly funny.
Matt Morgan's Funny How? promises to be a little dark and more than a bit weird. As Matt enlists the help of celebrities and experts in a futile attempt to find out what defines a laugh, listeners may even learn something useful.
Guests will include: Noel Gallagher, Roisin Conaty, Rob Beckett and many more.
That's a First! – with Maisie Adam and Tom Lucy
Did seeing your mum and dad hammered drunk make you realise that, for the first time, disappointment is a two-way street? When did you experience death for the first time – was it when you woke up to find your Hamster's tail poking out the cat's mouth?
These are some of the random 'firsts' covered in a brand-new podcast fronted by Maisie Adam and Tom Lucy. In each episode of 'That's a First!' Tom and Lucy will be joined by a special guest to discuss some interesting 'firsts' they've experienced in their lives.
Yorkshire lass, Maisie Adam was nominated for the Best Newcomer award at the Edinburgh Comedy Awards, for her debut show 'Vague' and she won the Amused Moose National Comic Award. Maisie has since appeared on Mock the Week, Have I Got News for You, 8 Out of 10 Cats and The Stand-Up Sketch Show.
Tom Lucy supported Jack Whitehall on his UK Arena Tour and has also toured as a support act for Kevin Bridges, Michael McIntyre and Rob Beckett. He has taken two sell-out shows to the Edinburgh Festival, won the Best New Comedian at the Edinburgh Fringe and as appeared on Stand Up Central, Roast Battle and Comedy Central at The Comedy Store.
Guests on That's a First! will include: Jack Whitehall, Ed Gamble, Romesh Ranganathan, Jamie Laing, Olga Koch, Rhys James, Harry Hitchens, Call Me Loop, Tiff Stevenson, Catherine Bohart, Scroobius Pip, Rosie Jones, Josie Long, Lloyd Griffith.
A Thin Layer of Film with Heidi Regan
Former So You Think You're Funny award winner from the Edinburgh Fringe, Heidi Regan, will be joined on each episode by a guest and between them they will pitch terrible film and TV ideas, over analyse film classics and rewrite ridiculous endings of classic films.
Heidi has written for Kinne Tonight and Orange Is The New Brown in Australia, Newsjack, Have I Got News For You, The Now Show (where she will also guest on the next series) and The News Quiz. She recently supported Joe Lycett on tour.
Guests on A Thin Layer of Film with Heidi Regan will include: Margaret Cabourn-Smith, Stuart Laws, Jordan Brookes, Adam Hess, Jess Fostekew, Phil Wang
Early Work – with Rhys James
Early Work is a new podcast in which comedians, writers, musicians and more, join the award winning, Rhys James, to share their embarrassing creative writing from their adolescence.
Writer, comedian and actor, Rhys James, has a mammoth collection of embarrassing 'early work' and thinks it's about time his teenage literature was revealed to all. Rhys invites guests on to Early Work to perform at least one attempted masterpiece from their early years. To level the playing field, Rhys has plenty in his locker.
Rhys James is an accomplished comedian, writer and actor, with TV appearances on comedy and sports shows; Mock The Week, Roast Battle, Russell Howard's Stand Up Central, Live At The Apollo, Sky's Soccer AM, Football's Funniest Moments, BBC1's Football Focus and BT Sport's Football Tonight. He is also known for his Twitter feed which has been recommended by The Telegraph, The Sun, Huffington Post, The Poke and The Gentleman's Journal among others.
Guests on Early Work will include: Rose Matafeo, Lolly Adefope, Nick Helm, John Kerns, Jaye Adams, Masie Adam
Job's a Good'un – with Chris Washington
Rising star, Chris Washington delves into the employment history of comedians, actors, musicians. This podcast will celebrate all the awkward customers, the bullshitting colleagues, the unhinged bosses, the overly staged sick days taken to get to where Chris' famous guests are today.
Chris has supported both Jonathan Pie and Milton Jones on tour.
Guests on Job's a Good'un will include: Rosie Jones, Stephen Bailey, Paul McCaffrey, Fern Brady
Class Dismissed! with Tom Houghton
Tom Houghton is unashamedly posh. He went to a very posh, elitist, all-boys boarding school from the age of six and now lives in the Tower of London.
'Class Dismissed! With Tom Houghton' is a podcast all about schools. Good schools, bad schools and really bad teachers. Tom discusses weird teachers, strange punishments, school yard games, how the bullies bullied, school trips and childhood memories have left Tom and his guests needing years of therapy.
Tom is also a regular face on Comedy Blaps, First Dates Hotel (both Channel 4), The Jim Jeffries Show for Comedy Central and Comedy Central's Roast Battle alongside fellow comic Lauren Pattison.
Guests will include: Ashley James, Amy Christophers, Elliot Steel, Lauren Pattison, Stephen Bailey.