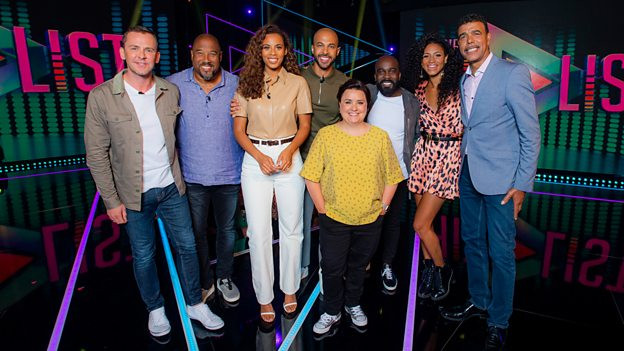 DJs Scott Mills, Melvin Odoom and Vick Hope are to take part in a celebrity version of the popular TV music quiz The Hit List in aid of charity.
The special edition, hosted by husband and wife duo Marvin and Rochelle Humes will see Scot Mills teamed with former footballer and rap star John Barnes, Melvin Odoom with comedian Susan Calman and Vick Hope with football pundit and presenter Chris Kamara.
The pressure will be on for the celebrities, especially the BBC Radio 1 and Capital DJs, to name as many hit songs and artists as possible for the chance to be crowned champions and win up to £10,000 for their chosen charities.
Radio 1's Scott Mills admitted: "I haven't revised; I haven't done my homework at all. I know the other teams are listening to their playlists, but I think what's the point of that, you don't know what we are going to be asked, it could be anything?!
"Being a DJ I do feel that a lot of this may rest with me."
Capital Breakfast co-host Vick Hope says: "I feel like I'm under enormous pressure here. I only really know songs from the last two years since I've been doing radio."
Asked about her strongest genre of music knowledge, Vick said: "I think for me personally, it is going to be pop. I think probably current pop, followed by noughties pop, followed by 90s pop. But I keep thinking I know 90s pop when the truth is, I was fairly small – so now I'm a little nervous. I don't really know if I do."
Radio 1's Melvin Odoom admits he's feeling the pressure: "I am so scared about this game today because everyone's going: "Oh you're the DJ so you should know all the tracks that are gonna be playing later on." But I'm not too sure about track names. I know artists but track names are where I can get a little bit confused."
He added that he and his team mate Susan Calman will play to their strengths!
Speaking about the special edition of the show, which airs on BBC One on 28 December, Melvin Humes said: " Scott, Melvin and Vick are all radio DJs so there is a certain expectation that they should do well, especially Scott Mills, he should really know his stuff.
"The pressure is on him, as he's got 20+ years of Radio 1 knowledge behind him, so it will be interesting to see how it all pans out."
? Interviews with the hosts and contestants of #TheHitList's Celebrity Special – coming to @BBCOne on 28 December – ft. @RochelleHumes, @MarvinHumes, @SusanCalman, @MelvinOdoom, @OfficialBarnesy, @Scott_Mills, @VickNHope and @Chris_Kammy: https://t.co/sNovJJ2iSr pic.twitter.com/agZjx6VKWQ

— BBC Press Office (@bbcpress) December 7, 2019