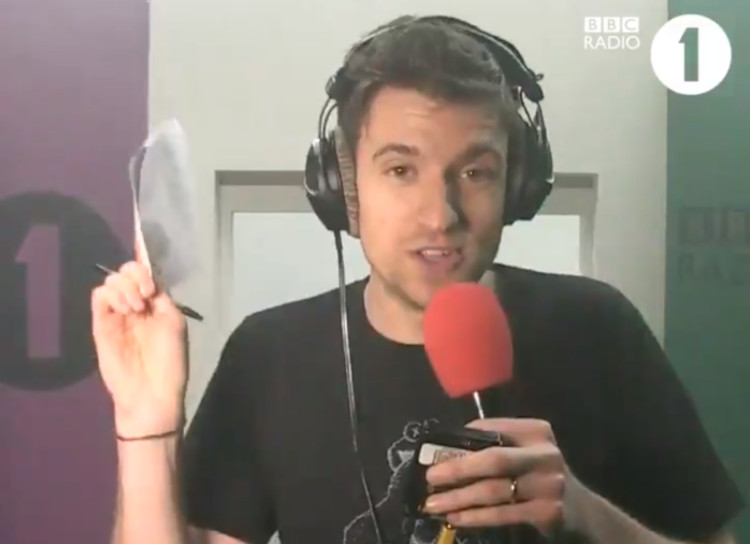 Breakfast show presenter Greg James has managed to get out of the BBC Radio 1 escape room which he was locked in.
He was taken away from his show before 8am yesterday, blindfolded, put in the back of a van, later emerging in a locked room with a keypad on the door, requiring a six-digit code to open.
Greg spent the rest of the day and night in the room as listeners tried to work out a series of cryptic clues which led to revealing the code to unlock the door.
The clues included a hangman game, musical clues, getting in touch with a 'star listener' to his show called Claudia. He also had to complete a jigsaw which was of Ricky Hatton and the words 'Shake, Rattle and Roll,' which was the song that Ainsley Harriott was dancing to when he was eliminated from Strictly.
But it didn't end there as there were more clues leading to Greg's eventual release. You can see the full explanation in Greg's tweet below:
And here's how it was done…

I work with the most extraordinary team of people. My god they're good. Hope you enjoyed the nonsense!#R1EscapeRoom pic.twitter.com/gmywM3WQUm

— Greg James (@gregjames) February 19, 2019
Greg spent around 30 hours holed up in the Radio 1 escape room, which he said was, "Even worse than climbing Ben Nevis, and I hated doing that more than anything in my life."
He added, "That was ridiculous, and I'm so pleased I'm free, I can finally work out where I am, what my life is all about again."
There was one thing about this whole ordeal that worried him, he was afraid he might miss going to the BRITs tomorrow evening. Well, having reached the magical code 412182, Greg shall go to the ball!
YOU DID IT! ??@gregjames was blindfolded in the middle of his Radio 1 Breakfast Show before being taken to the #R1EscapeRoom and locked in until YOU helped him find the code.

Nearly 30 hours later he is OUT and how it happened will blow your mind! THANK YOU ? pic.twitter.com/BBFKT9mCc1

— BBC Radio 1 (@BBCR1) February 19, 2019