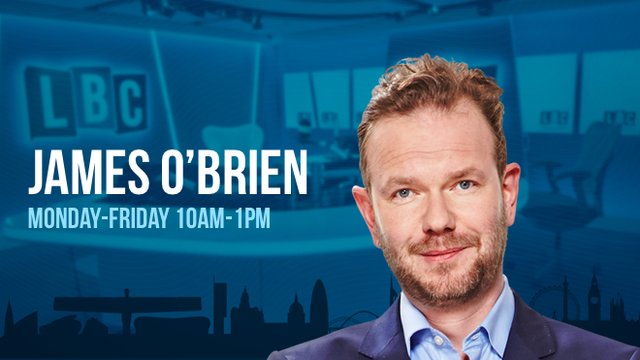 The Poisoned Ear: James O'Brien, LBC (Nationwide); John Marshall, Lincs FM (Lincolnshire); Kevin O'Sullivan, Love Sport (London)
I thought this week's I'd play a game of Radio Roulette. Have you ever played it? The rules are simple. Choose a letter from the alphabet at random (I chose "L"). Go to Radioplayer or some such app and listen to an hour from the stations that start with that letter. So, in three parts, here's an account of "My Afternoon in 'L'"
Starting with LBC, and the king of radio YouTube clips James O'Brien.
On the agenda for the hour that I heard was the furore over "drill music" (which if you haven't heard is a strain of urban music coming out of South London which is being blamed in some parts of the national media for the rise in knife crime) and the death of the high street.
The general consensus with "drill music" is that the press is over-reacting. This music is no more encouraging people to kill each other than rap before it and rock and roll before that, but I thought James and one of his callers made an interesting point.
The music we listen to DOES have a subconscious effect on us. The caller listens to drill music when he's running and he feels it improves his performance, whereas James revealed he used to listen to Eminem before going on-air in the past and thinking back wonders if that might have made him more aggressive.
Of course, isn't that why you only hear "up" tracks at breakfast and love songs at night,
We also heard an update on the Grenfell Tower inquest with footage of the first 999 call from Behailu Kebede, the tenant in the flat the fire started. It was great to hear what had happened at the inquiry that day in an informative, dispassionate way which made it easy to follow the story. There was an advert earlier in the hour for a private tenant agency bragging about how they saved some tenants from a fire in a block of flats and everyone was happy. Just jarred a bit.
Back to James, the discussion about the high street was prompted by the news of closures for House Of Fraser and rumours of other high street stores failing. Callers reported that they shop online now because of the convenience and variety that you just don't get on the high street.
The reason why James stands out on talk radio in the UK for me is because the narrative is so subtly different.
Elsewhere the world is going to Hell in a handcart and it's all everybody else's fault! Immigrants, women, the jobless, the previous Labour government!!!
With James, the world is going to Hell in a handcart thanks to the Daily Mail and the political classes looking after themselves.
A lot of talk radio hosts put fear into you but James simply points out what's happening and more and more can say "I told you this would happen."
Next in line was John Marshall on Lincs FM.
The music policy seems, as ever for Lincs FM, songs that no-one hates but no-one particularly loves. The hour included Kylie, Elton John, Rod Stewart…but not the big hits (In Your Eyes, Healing Hands, The Bloody Motown Song).
Also, the current Clean Bandit song which was introduced by John, a man who I can imagine reacts to and new music in the way my grandad reacted when we watched Top Of The Pops, like this :-
"Let's play a game which I think you'll enjoy. Clean Bandit has hidden a song amongst a series of special effects. See if you can spot it!" Very funny and on any other station a brave attitude to take.
It was a high point. John spent the rest of the hour talking down to me.
He introduces features and looked ahead to the rest of the schedule as if I was an elderly relative who needed reminding about who the milkman was.
"Andy Fenton's on the afternoon show next, now he used to be on afternoon but he's in the evening show now, but he'll be here in the afternoon, you remember him don't you!"
"Look Dad, it's Andy, he does the windows for you. You like Andy don't you, yes!"
Other than the Clean Bandit link the only other highlight was the show's sponsor….
"Daytime on Lincs FM with…" wait for it, "CESSPOOL SID" including a quick comment from Sid himself!!!
That's why Peter Kay canceled his tour! He's running S&P for Lincs FM!
Love Sport is completely new to me. Available on DAB and medium wave in London it's run by Kelvin Mackenzie….and boy can you tell!
I like Kevin O'Sullivan. I like him on Twitter, I like his TV reviews and I liked him when he turned up on 5 Live. However…
Technically speaking Kevin is full of umms and aahs, he's invariably eating something and shuffling bits of paper. He sounds like, well, like a newspaper journalist who's been given a radio show. This can be worked on and ironed out though, very easily.
In terms of content, it's like listening to an audiobook of The Sun.
Main topic is Germaine Greer suggesting that Beyonce doesn't need to wear very little to succeed. Kevin had an old showbiz journalist colleague on who, alongside Kevin, pointed out that Germaine Greer's a bit old and behind the times now and curiously a rant about how the BBC are hypocrites for publicising Poldark with photos of Aiden Turner with his top off.
What does the BBC have to do with anything?
The upshot of it all was that political correctness, the mainstream media and "Islington mums" should stop making the world so boring and worry about more important things.
Kevin asked what role #metoo had in spoiling our fun and his mate replied "Well there are some very serious issues addressed as part of #metoo.." (so far so progressive) "…but Peter Stringfellow's girls were never exploited, in fact they were paid very well!"
Eh? Where's that come from?
The production either side of the ads included some secondary school satire with cod-Russian accents and Donald Trump impressions.
But it was the breakfast promo that for me summed Love Sport up.
Ian Stone promising that he'd tell us the right way to "chat up birds".
His co-host reading from a crib sheet: "Of course you don't just have to compliment a girl on her looks. Tell her how funny she is"
Our host interrupts "..then tell her about her breasts!!"
HUURRRGH! LADS LADS LADS!!!
Sexist, misogynistic, vaguely xenophobic banter from the kind of people who will tell you that the "Mainstream Media" won't let them have a say.
The station should reposition themselves as "Total Bants" because from what I head there's very little "sport" discussed and absolutely no "love" for anything but the boorish tastes of its leader.