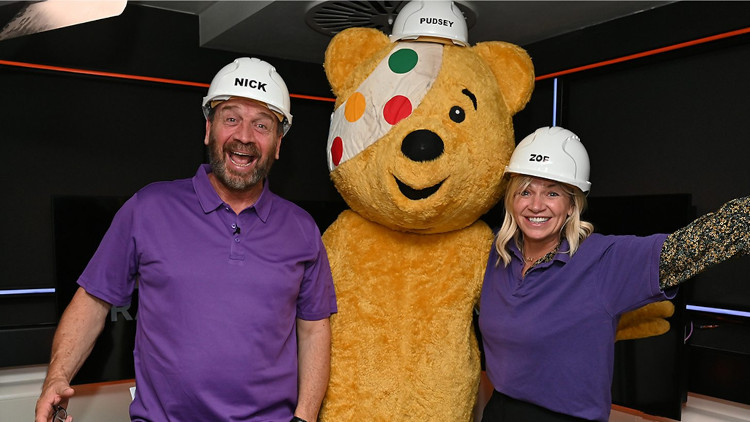 Appearing as a guest on Zoe Ball's BBC Radio 2 Breakfast Show this morning, Nick Knowles revealed that DIY SOS will build a brand-new home for Leeds based, BBC Children in Need funded project, Getaway Girls.
Radio 2 is helping deliver this outreach project to build a lasting legacy in Leeds as part of Radio 2 Live – which is taking place at Temple Newsam Park in Leeds on Saturday 17 and Sunday 18 September, featuring performances from a star-studded line-up of artists.
DIY SOS Children in Need 2022 will see Nick and his team of Chris, Jules, Billy & designer Gabrielle Blackman joined by BBC Radio 2 presenters and an army of volunteers to create the charity's new building – from the ground up – in just nine days.
The new building is to be in Seacroft and will provide a safe space for vulnerable girls and young women living in Leeds. They'll be able to access support and advice. The new building will include offices, a creche, activity spaces, a music and media studio, counselling rooms and a garden.
Getaway Girls is a 35-year-old charity which supports a diverse range of women and girls from across the city, with a focus on raising aspirations, providing support and creating opportunities to help them reach their potential and build a better future.
Nick Knowles, Presenter of BBC One's DIY SOS, says: "We have another huge build ahead of us in Leeds, which will make a real difference to the lives of girls and young women who are supported by Getaway Girls. If you have a trade, a skill, can spare some time to graft or can help us with materials then get in touch. It'll be a blast."
Tommy Nagra, Director of Content at BBC Children in Need, says: "We are so looking forward to seeing this amazing DIY SOS build come together for Getaway Girls and the support from our friends at Radio 2, who together will create a lasting legacy in Leeds"
Helen Thomas, Head of Radio 2, says: "For the first time, Radio 2 Live is heading out of London – coming to Leeds for a weekend of incredible live music for thousands of music fans. As part of our commitment to delivering outreach work to support the local community we are honoured that our brilliant presenters will be getting stuck in and helping deliver this important build for Getaway Girls, working alongside DIY SOS and BBC Children In Need."
Flavia Docherty, Director of Getaway Girls, says: "We are thrilled to have been given this amazing opportunity and couldn't be more excited for the future of the charity. The new space will provide the chance for us to support even more girls from across the city, and make a positive difference in their lives.
"We are so grateful to the whole DIY SOS team, Radio 2 and their presenters and, of course, BBC Children in Need for supporting us for 12 years – without their funding we wouldn't have been able to continue our work for this long and have the impact that we have done for girls and young women in Leeds over the years. We can't wait to see the new space and we're really looking forward to being able to grow even further and welcome more girls from across Leeds to Getaway Girls!"
If you're interested in volunteering as a professional trade or donating product to this charitable build, email: diysosleeds@bbc.co.uk before Trades Day on Tuesday 16 August.