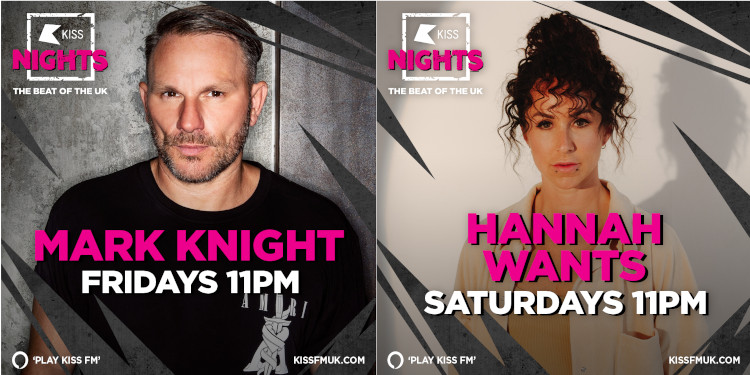 Toolroom Records' boss Mark Knight and superstar DJ and Producer HANNAH WANTS are joining KISS FM from this weekend as part of KISS Nights.
They join Majestic, Joel Corry, Gorgon City, Juls, Hybrid Minds and Ellie Prohan who are among those who already represent for KISS Nights – a pool of DJ talent and emerging names from the worlds of Dance, Hip Hop, Afrobeats, Drum and Bass and more.
Mark will be on air Fridays and HANNAH on Saturdays (11pm-1am).
Mark Knight said: "Being asked to host my own show on KISS is a huge deal for me and feels like my career has come full circle.
"The station has always been hugely inspirational to me growing up, it was the point of reference in terms of youth culture and my access point for quality underground House music.
"I cut my teeth as a professional DJ, being their resident at Garage City & Independence. I have always loved the station, and I owe a lot of my success to them – so to now have my own show is something I'm incredibly proud of. I can't wait to get stuck in and make the Friday night slot my own."
HANNAH WANTS added: "I'm hella excited to be getting back involved with radio and joining the KISS FM family.
"I've been watching and admiring their movements for a while now and so to be a part and be able to put a Hannah Wants stamp onto your weekend is an honour.
"Expect two hours of the very best house, tech and minimal music from around the world every Saturday night 11pm-1am."
? We've got a BRAND NEW Friday and Saturday night line-up on #KISSNights launching this weekend!?

Catch label boss, DJ, and producer @djmarkknight – Fridays from 11pm, and talented DJ and dance music producer, @hannah_wants – Saturdays from 11pm!?

Check out the full squad!?

— KISS FM UK (@KissFMUK) June 21, 2021