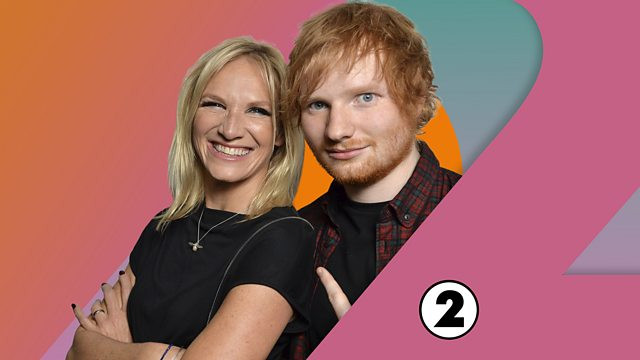 It's been a very busy day for Ed Sheeran, doing the rounds to various radio stations and now fans will be pleased to hear that he's also going to co-host one of Jo Whiley's evening shows on BBC Radio 2.
Ed is promoting his new single Bad Habits, which he co-wrote with his best friend Johnny McDaid of Snow Patrol, appearing on the Capital, Heart, Kiss and Hits Radio Breakfast Shows earlier this morning.
Speaking on the Fleur East Breakfast Show on Hits Radio and KISS Breakfast with Jordan and Perri, Ed spoke about being a dad and revealed that Johnny McDaid of Snow Patrol is his daughter Lyra's godfather. He also spoke about how he and Johnny had written the new single, Bad Habits together and that it was him who introduced Johnny to his now partner Courtney Cox. There were also some clues to the title of his new album – he said that it's on the Ipswich Town kit that he's sponsored.
On Capital Breakfast, not only did Ed surprise fan, NHS nurse Nicky, by jumping out of a giant Christmas present mid-way through her interview about missing out on Christmas because she was working, he also played Roman Kemps Mega Hard Super Quiz on the Simpsons. Unbeknown to Ed, Roman arranged for Nancy Cartwright, the voice of Bart Simpson to ask the questions. Ed admitted to being nervous and only managed to get three out of the five questions right.
Imagine FAILING @romankemp's Mega Hard Super Quiz all about The Simpsons IN FRONT OF ACTUAL @nancycartwright…

?‍♂️ that ?‍♂️ would ?‍♂️ be ?‍♂️ embarrassing, ?‍♂️ wouldn't ?‍♂️ it, ?‍♂️ @edsheeran? ?‍♂️ pic.twitter.com/UEF1yOnwRH

— Capital (@CapitalOfficial) June 25, 2021
There was also a touching moment on Heart Breakfast with Jamie Theakston and Amanda Holden when Ed surprised 10 year old superfan Rafa, who was in the studio with his grandad Norman. Norman had been in hospital during lockdown and Rafa kept in touch with him over Zoom, playing him songs on his guitar.
Jamie asked Rafa to perform one of the songs he played to his grandad – Ed Sheeran's Thinking Out Loud. As Rafa sang the song Ed crept into the studio and joined in, which made Rafa's day!
A surprise of a lifetime… ✨

Watch the moment @edsheeran surprises his 10-year-old superfan Rafa with a special singalong ?❤️? pic.twitter.com/2VDUgp64G4

— Heart (@thisisheart) June 25, 2021
Ed is appearing on New Music Day with Zane Lowe on Apple Music 1 later this afternoon to talk about the new single and how it came to be. Also, about becoming a father and settling down, reaching out to Bono for advice, making music for himself rather than fans, appreciating his early success and approaching a new era in his career.
That's a lot of Ed in one day, but there's more, although not until Monday. He's going to co-host Jo Whiley's BBC Radio 2 show this Monday 28 June, 7-9pm.
Jo says: "I've met and interviewed the brilliant Ed Sheeran quite a few times over the years now. He's excellent fun and always has great stories to tell – it's been too long, and I can't wait to co-present my show with him."