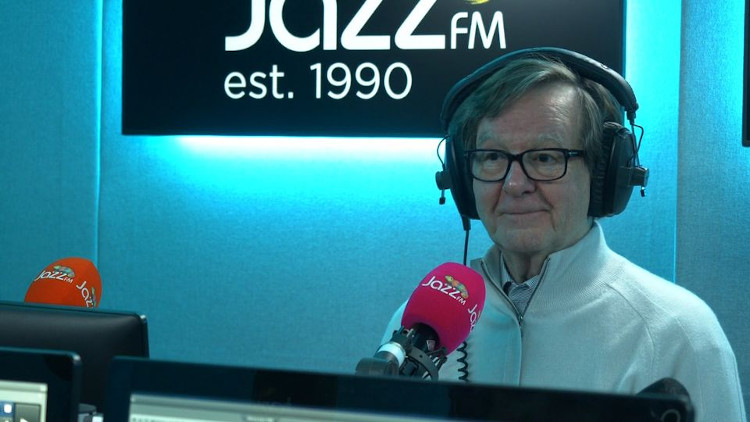 Robbie Vincent is to host a new weekend show on Jazz FM as part of a new look to Sundays on the station.
Radio legend Robbie makes a return to weekly broadcasting on Jazz FM following a series of specials in May last year. He'll present a two-hour Sunday afternoon show 1pm – 3pm which, we're told, will be full of 'soulful jazzy vibes'.
The rumour is a rumour no more. Pleased to confirm back with a new regular Sunday show on JazzFM .Music Garden opens at 1pm Easter Sunday.

— Robbie Vincent 💙 (@RobbieVincent) March 22, 2021
In other changes, Tony Minvielle moves from Sunday evening to take over the 10am until 1pm slot with a relaxed soulful selection of UK and west coast US jazz and soul. His first show will see him talking to multiple GRAMMY® and Jazz FM Award winner Esperanza Spalding.
The two new shows will sit alongside Simon Philips at Breakfast time and John Osborne at the new time of 5pm with his soul music infused selections, before David Freeman, Jez Nelson and Clare Teal, who joined the Jazz FM in January.
These schedule changes follow the announcement over the weekend by Jeff Young that he is to leave the station after 10 years to pursue interests that until now he has been unable to give time to.
On returning to the station with a weekly show, Robbie Vincent says: "After my trial runs last year on Jazz FM, I'm really pleased to be back at home and more specifically back in the music garden on a Sunday.
"I really enjoyed being back on-air during Jazz FM's 30th anniversary year on the Bank holidays playing the tunes that attack the listeners rhythm buds, and the new Sunday show will have some smashing mature tunes and super fresh rhythms."
Tony Minvielle says: "I'm really excited to be moving to this new time slot, especially one previously filled by my mentor, the inspirational and legendary, Jeff Young. I hope to bring to this new programme the same unique energy that was the hallmark of my previous one with plenty of new innovative music from international and homegrown artists, some unexpected vintage gems, some insightful chat, and that 'something' a little bit extra to hopefully make Sundays a really, really, exceptional listen."
Jazz FM's Content Director Nick Pitts adds: "Jazz FM has always attracted great broadcasters and whenever possible, we've promoted the talent from within. The fact we can do both on this occasion with Tony moving up from his late night Sunday / Monday morning show into such a prominent slot, while following a rekindled love affair with Jazz FM through his thoroughly enjoyable and much loved special shows last year, it's so great to have Robbie back on a weekly basis. This builds on the new feel and energy to Sunday's that Clare Teal has brought with her new show"
"In the meantime, I'd like to thank Jeff for 10 years at Jazz FM. He has contributed so much to our radio station over the years, spoiling us with his music selections, and while I am sorry that he wants to leave to pursue other interests, I can totally understand that now is the time to grasp new opportunities. The entire Jazz FM team wish him all the best."
These schedule changes will take place from Easter Sunday 4th April, the same day that Jazz FM's landmark ten-part documentary series "The Definitive History of Jazz in Britain" starts, which is hosted by award winning BBC journalist and presenter Clive Myrie.