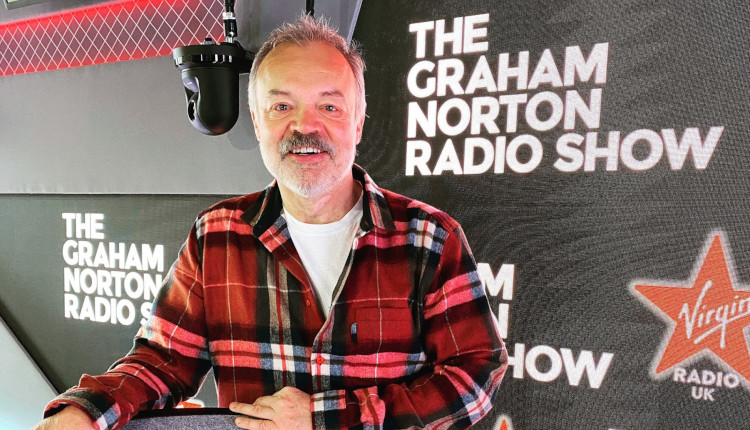 Graham Norton's first show on Virgin Radio this morning went well, sounding like… the way he always does, except he was saying "Virgin Radio" rather than "Radio 2"!
Opening up the show he said: "This is it…new station, new year, new show, sadly same old me as the jingle indicated. I'm Graham Norton and I'm here for the next three hours or so and tomorrow as well. Fair warning, we've got a bit of rambling chat, a couple of guests and of course some great music."
Introducing his first song, Madonna's Hung up, Graham said: "Let's kick off with the original virgin." Perhaps a clever pun, if not a little cheesy!
As you might expect, he talked about getting ready for the show, telling us he'd packed a lunch last night so he'd be very prepared and that his little bike took him in a different direction, going down the hill instead of up the hill – well he is working in a different building now!
"I looked so rough this morning," he told listeners, "Well either I looked rough or the enormous pictures of me in the lobby here are so airbrushed. There were paparazzi waiting outside and I walked past them, they must have been like 'that gnarly old man can't be him, that can't be the fresh-faced young man on the posters,'" he joked.
Maria Mc Erlane, Graham's favourite radio partner in crime who used to co- present the 'Grill Graham' feature on Radio 2, joked that: "The technology must be better over here, it's not the cavalier pitching that I'm used to, and I even know how people can text in."
Graham responded: "If people haven't heard us before we mustn't raise their expectation!"
Guests on the show were Faye Ripley and Ralf Little. Fay admitted that during lockdown she's doing nothing but cooking and eating, so now feels fat. She also revealed that she was once offered a record contract from Simon Cowell's company but said she was too busy and that, although she'd like to do another run of Cold Feet, she doesn't think it will happen.
Ralph Little said he thought Graham should play a murder victim in Death in Paradise because it doesn't involve much work, "it's basically just lying around and they sort of come and fan you," he said.
He also told Graham that the filming of Death in Paradise was done under Covid-19 protocols and it was an amazing achievement because they started two months later than planned but still managed to finish it in time.
"When my first episode went out, I couldn't watch it because I was too nervous," he admitted, adding, "After about 15 minutes my missus called me and said 'you can crawl out from under your rock, you're a hit'."
Perhaps the best word to describe Graham's first show is "familiar" – in a good way. The music was a mix not too far away from what Virgin normally play, yet similar to what you might hear on Radio 2, and pushing the buttons himself seemed to go very well too.
Graham said the other day, that the show to listen to is Sunday, because if everything goes alright on Saturday, he'll be really over confident on Sunday. New shows are usually judged by their first one and although it was really a continuation of the Radio 2 show, if Sunday sounds like today, he's off to a flying start!
New year, new show, same old @grahnort

Listen online ? https://t.co/yb9SyNsR4J

More ways to listen ? https://t.co/I0ORTjpQIN pic.twitter.com/fpcDRplh64

— Virgin Radio UK (@VirginRadioUK) January 9, 2021
The Graham Norton Radio Show with Virgin Radio can be heard Saturdays and Sundays  from 9:30am -12:30pm