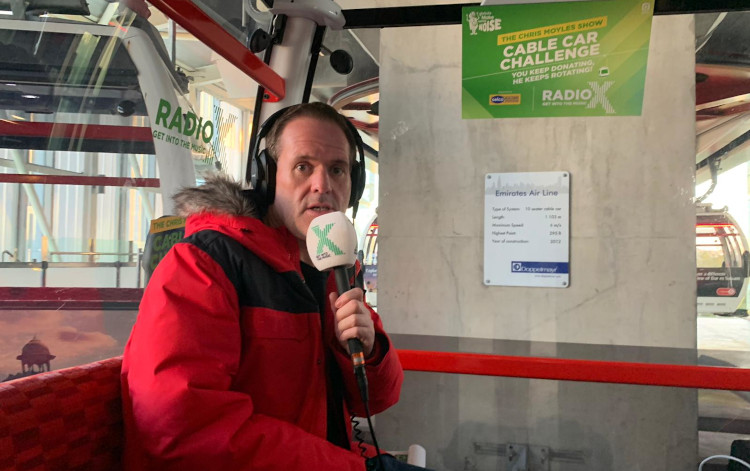 It seems presenters being in dangerous places in aid of charity is the thing after Roman Kemp from Capital dangled over a cliff yesterday and today it was Chris Moyles' turn as he presented his Radio X breakfast show from a cable car suspended 100s of feet above the River Thames.
Chris had to face his fear of heights to raise money for Radio X's charity Global's Make Some Noise, presenting his show from London's Emirates Air Line, and had to stay in the cable car if his listeners kept donating towards various fundraising milestones.
Wynne Evans aka Gio Compario aka The Go Compare Man jumped in the pod with @ChrisMoyles ?#CableCarChallenge pic.twitter.com/c8blJ5fPjx

— Radio X (@RadioX) October 10, 2019
When he got into the cable car, Chris had to be calmed down by breakfast show team mate Dominic Byrne, who joined him in it for its first rotation.
Chris shouted: "Oh lord! Oh my good god, oh my lord it's high! It's a bit wobbly! Oh my god! It's wobbling from side to side. Would you like me to be honest? I'm more nervous than I thought I'd be!"
The moment @ChrisMoyles climbed aboard the cable car for his #CableCarChallenge for @makenoise ? pic.twitter.com/voyb26GmCa

— Radio X (@RadioX) October 10, 2019
Listeners kept donating so Chris kept rotating and the whole show was streamed on YouTube.
Various guests joined Chris to distract him from the drop below including Go Compare man Wynne Evans – who led Chris in a rendition of Nessun Dorma and comedian Jon Culshaw.
Probably one very welcome guest was Andy Puddicombe, creator of Headspace, who joined Chris in the car to teach him much needed meditation techniques!
Mr. @jonculshaw joined @tobytarrant and @ChrisMoyles on the @makenoise #CableCarChallenge ? pic.twitter.com/yzViJizo4I

— Radio X (@RadioX) October 10, 2019