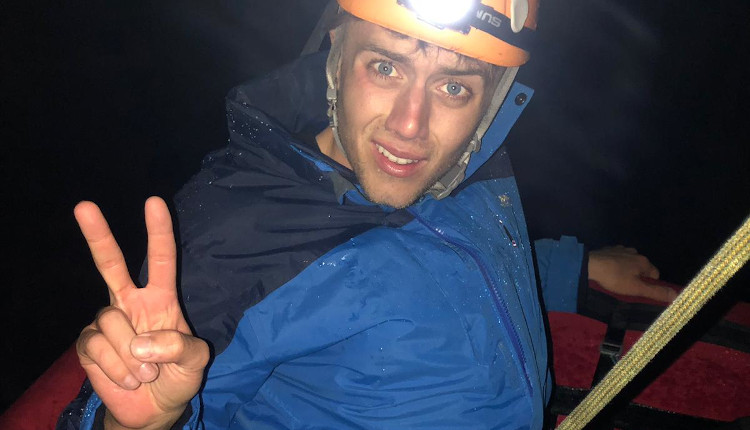 Capital Breakfast's Roman Kemp experienced a terrifying few hours dangling off the edge of a cliff last night in aid of charity.
He's mid-way through 'Roman's No Money Road Trip' in aid of Capital's charity, Global's Make Some Noise.
Last night, he was challenged to descend off the edge of a cliff to attempt to camp on a portaledge suspended above the waves in North Wales, telling listeners: "I've done some stupid stuff, let me tell you, but this is the most scared I have ever been in my life.
"Right now. We're going to see how it goes, the wind at the moment is pretty bad, it's blowing up the water. We're pretty much soaked, we're going to try and hold out."
You're probably watching this tucked up in bed… @romankemp is 'tucked up' on the side of a cliff in Wales ? Looks fun, right? ?

? https://t.co/3pTd0ZGn9F | #NoMoneyRoadTrip | @makenoise pic.twitter.com/usCR4CV80A

— Capital (@CapitalOfficial) October 8, 2019
Even charity officials were concerned that stringent health and safety guidelines meant this part of Roman's challenge may have to be aborted.
Speaking about the challenge on air this morning, Roman told his listeners: "It was a suspended tent off the edge of a cliff essentially.
"Now, in the middle of the night, the waves were crashing against the side… It was just myself and our video producer Jake. I looked at him and I said at one point 'do you know what mate I don't know if I can do this'.
"It got so bad, I'm not gonna lie – we were there for a while but it got so bad that even the guys that were looking after it were like 'you've gotta come off this'. It was nuts."
Roman's No Money Road Trip task sees Roman travelling 1000 miles around the UK to present five breakfast shows in five days, but without money or the help of his phone.
After last night's ordeal, Roman was an hour late for his Capital Breakfast show this morning. At 4:30am his fellow Capital presenter Lauren Leyfield informed him there was another 100 miles to travel to before he reached the destination of this morning's live broadcast, Wrexham.
He called his breakfast team Vick Hope and Sonny Jay to let them know, so they looked after the show while he got a lift from a listener to Wrexham. he finally made it to the studio at 7am.
Today, we witnessed the moment listener Huw saved @romankemp during his journey.

Today, we saw the birth of a ????.

? https://t.co/3pTd0ZGn9F | #NoMoneyRoadTrip | @makenoise pic.twitter.com/s8TlfMrz8z

— Capital (@CapitalOfficial) October 9, 2019
So far, Roman has made it from Edinburgh to Wrexham – via Newcastle, Leeds, Manchester and Liverpool before he spent last night in North Wales.
He doesn't know what's coming up on the challenge and is being given his route and challenges by his fellow presenters and some celeb friends as he goes along. He is currently cycling from Wales to Birmingham on Day 3 of his challenge.
So far, challenges have included being pelted with water and flour by school kids after losing a spelling challenge, busking in Edinburgh and screaming as he faced his lifelong fear of frogs in a blindfold challenge – you can see the highlights here
Roman is attempting to make it back to London by Friday to present his Capital Breakfast show on Global's Make Some Noise Day.