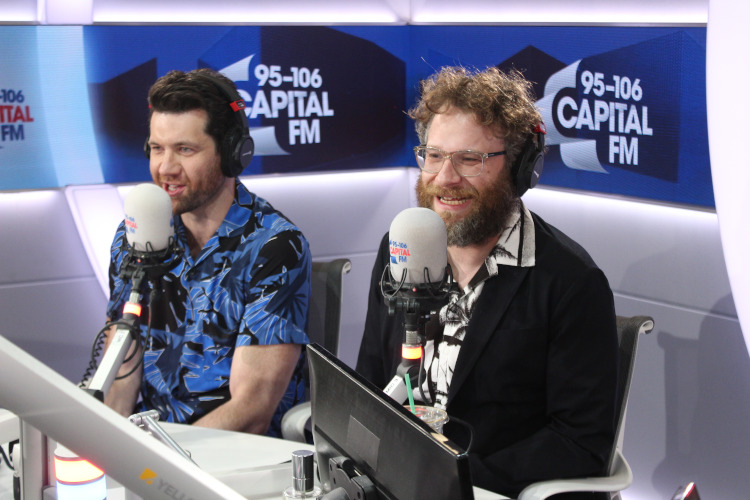 Stars of The Lion King Seth Rogen and Billy Eichner, the voices of Timon and Pumbaa, were guests on Capital Breakfast with Roman Kemp this morning to talk about the film and revealed an interesting connection to Meghan Markle.
The new movie, which is a remake of the original animation, will be in UK cinemas from this Friday, 19 July. It has an all-star voice cast, led by Donald Glover as Simba and Beyonce as love interest Nala.
Both Billy and Seth had some interesting stories to tell, including Billy revealing that he went to college with Meghan Markle.
Billy told Roman: "We both went to Northwestern which is outside of Chicago which has a big theatre programme. And she was a theatre major, I was a theatre major and so when I met her the other night all we did is have this strange casual conversation about our acting teachers. Coz we had some of the same acting teachers."
In the movie's new version of Can You Feel the Love Tonight, which features Beyonce, Billy explained that Timon and Pumbaa start and finish the song, but never overlap.
Seth said: "If you go on to iTunes right now, we're like in her top 10 songs," with Billy adding: "We are charting Billboard artists right now, with Beyonce which is hilarious."
At the Grammys, Seth tried to approach Beyonce but it didn't go well, he told Roman: "I tried to approach her and she was with Gwyneth Paltrow at the time and I was holding a drink and her security shoved me so hard that I spilled my drink all over myself and then I had to go present.
"I introduced Eminem and Rihanna and I had just spilled a drink all over myself and I literally, I'm actually like standing funny to cover up a giant drink stain all over my suit."
For Billy Eichner singing wasn't a problem because he's had a lot of experience doing it, but it's not the case with Seth Rogen, who had coaching from someone special, as he explains in the video below:
Can we talk about how @Sethrogen and @billyeichner have a song with @Beyonce? Plz. 🎶 pic.twitter.com/wwTnAWUBDu

— Capital (@CapitalOfficial) July 16, 2019
Tune in to Capital Breakfast with Roman Kemp, weekdays from 6am – 10am.