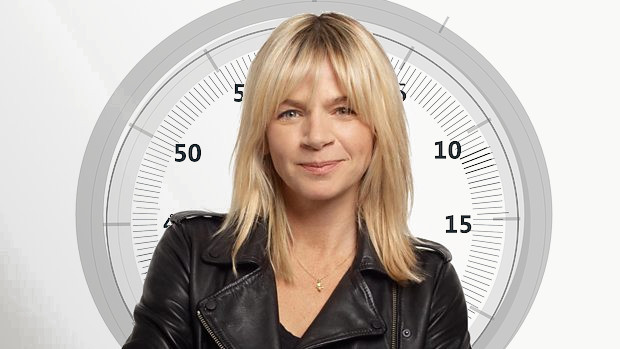 The publicity machine has been in full-swing in preparation for the start of the Zoe Ball breakfast show on BBC Radio 2 on Monday.
Earlier this week we found out what the show's features would be, and we also learned that Tina Daheley would be reading the news, Richie Anderson the travel, Mike Williams the sport and Carol Kirkwood the weather.
We also found out that Zoe and Sara Cox, who'd both been in the running to get the coveted breakfast show, weren't rivals and supported each other.
Now we learn, according to Dan Wootton writing in the Sun: "Their close friendship faded as they increasingly competed for similar jobs." He also writes that "they don't hate each other by any means – and are respectful in professional situations."
Zoe was a guest on Friday's The One Show where she talked about choosing the first song to play on the show. Many presenters think of the first record they play on a new show as significant, in the same way we all remember the first record we bought.
She started out with a list of 81 songs, which was pruned down to 40. She said, "I started annoying my friends and loved ones, going 'what about this one, what about this one' but there was one that I kinda thought, this is the one.
"It's a good one", she added, "I think it's a message, but it's also got a very short intro so when I can't speak because I'll be nervous, we can get into it quick."
Michael Ball, who was co-presenting The One Show, asked if she would be nervous, to which she replied, "Yeah, I think on the first day, but we've put together a great show."
There's certainly an impressive list of guests appearing on the show in the first week. On Monday, she'll be joined by John Cleese and in the feature Hit, Miss or Maybe, winner of Bake Off, Nadiya Hussain will be reviewing a new track.
On Tuesday Kit Harington will be talking about True West and the latest How to Train Your Dragon movie. Wednesday sees Hollywood actor Hugh Jackman talking about his latest project The Front Runner, plus his new live show.
Then on Friday Tom Hiddleston will be talking about his return to the stage in Betrayal, and Saoirse Ronan will be talking about her latest film, Mary Queen of Scots. If that's not enough, Years & Years will be performing live in the studio.
Chris Evans is a hard act to follow, but from what we've found out so far, it looks like Zoe Ball is well placed to make a good go of it.
As for the first song to be played on the show…. We'll have to wait until 6.30am on Monday morning to find out what it will be.
Listen to the all-new @zoetheball Breakfast Show – weekdays from 6.30am on Radio 2! ✨ pic.twitter.com/b6yUOIC4uu

— BBC Radio 2 (@BBCRadio2) January 11, 2019